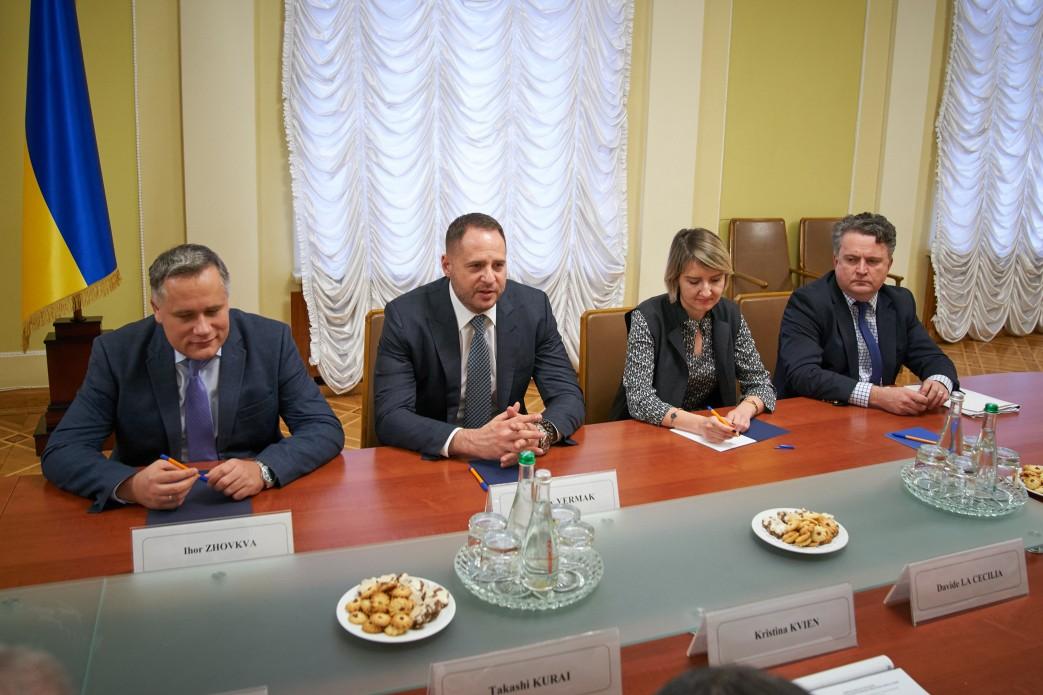 president.gov.ua
Andriy Yermak thanked the diplomats and their countries for supporting Ukraine and expressed hope for further fruitful cooperation.
He briefed the envoys on the situation in Donbas and future steps in the framework of the Minsk process.
"The position of the President remains unchanged: we want to do everything necessary to end the war and hold local elections throughout Ukraine at the end of October. We work 24/7 as it concerns the lives of our citizens," Andriy Yermak stressed.
According to the Head of the President's Office, the Normandy summit in Paris was quite successful as it resulted in the mutual return of the detained persons at the end of December, and new lists have already been submitted in Minsk. However, it is important to fulfill all the agreements to move further toward peace.
Read alsoZelensky introduces chief of staff Yermak to NSDC
"The pace of work on the [swap] lists and the return of our people will not be slowed down," Andriy Yermak stressed, recalling that Volodymyr Zelensky made reshuffles in the group dealing with the issue.
The Head of the President's Office also said that one of three areas for the new disengagement had been practically agreed during yesterday's meeting in Minsk. At the same time, he said, the Ukrainian party strives to speed up the process as much as possible.
Andriy Yermak also assured that the main purpose of his activity as Head of the President's Office would be to ensure the effective work of the President for the success of Ukraine, according to the press service.
"We want to be an example of openness and democracy. This should be the office of extremely efficient people whose main goal is the success of the President and Ukraine. Therefore, I will do everything to make the exchange of thoughts and information even more fruitful," Yermak told the G7 ambassadors.