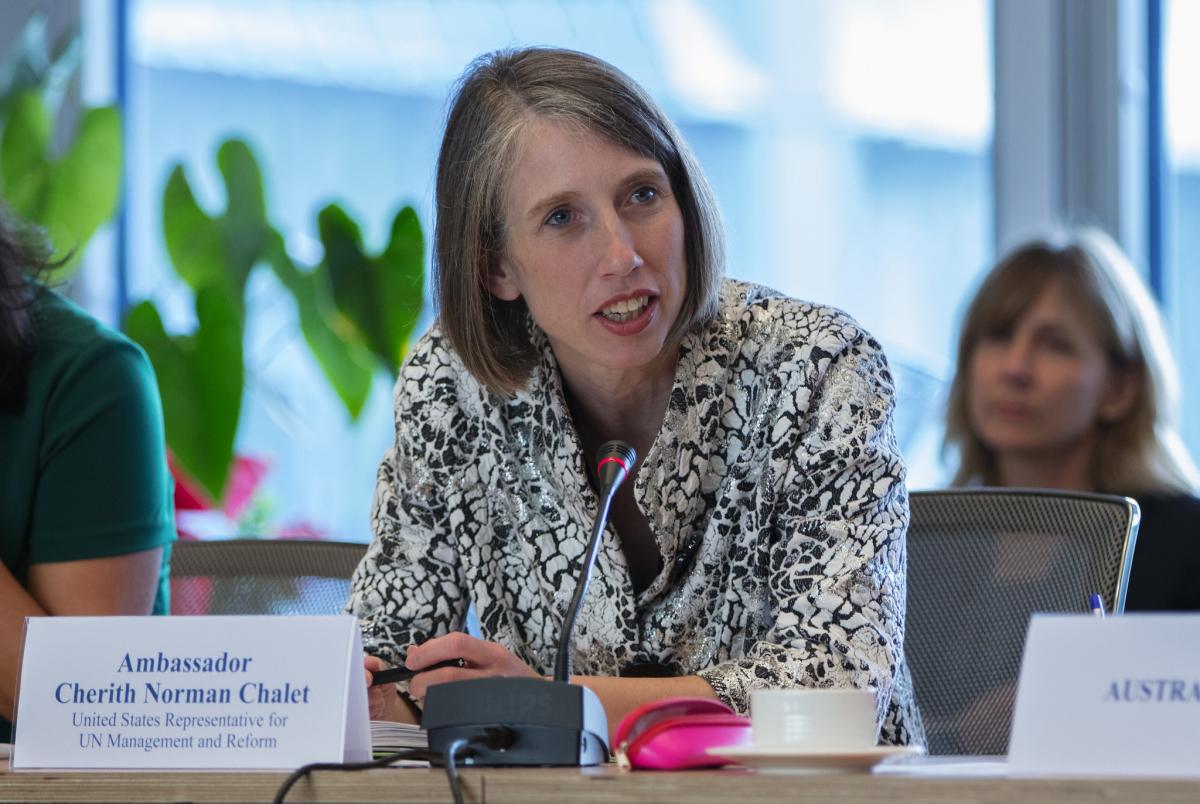 Ambassador Cherith Norman Chalet / Photo from flickr.com/us-mission
Acting Deputy Permanent Representative at the U.S. Mission to the United Nations, U.S. Ambassador Cherith Norman Chalet says Russia continues to arm, train, lead, and fight alongside its proxy forces in Donbas, eastern Ukraine.
"Unfortunately, Russia has not shown a […] willingness to fulfill its commitments under the Minsk agreements. It continues to arm, train, lead, and fight alongside its proxy forces in eastern Ukraine. This stands in direct contravention of Russia's commitments under the Minsk agreements, including to establish an immediate and comprehensive ceasefire," she said at a UN Security Council meeting in New York City on February 18.
Read alsoUN warns about "real risk of backsliding and further violence" in Donbas
"In this regard, today's attack by Russian-led forces near Zolote – which resulted in Ukrainian casualties – comes on the five-year anniversary of Russian-led forces taking the key rail hub of Debaltseve in direct contravention of the terms of the Minsk agreements reached just a week earlier. Then, as now, Russian-led forces continue to contravene commitments made by President Putin and Russian officials, and to kill Ukrainians on Ukrainian territory," she said.
"Instead of engaging constructively, Russia stalls and disseminates disinformation to distract attention from its central, unmistakable, and unjustifiable role in fomenting this conflict. Russia also continues its hybrid activities against Ukraine, wielding economic and political leverage," she said.
According to her, the resolution to the Donbas conflict must be a diplomatic one, and the U.S. will continue to engage with allies and partners to support Ukraine's sovereignty and territorial integrity. "Through its actions, Ukraine has made clear its commitment to achieving a peaceful resolution of the conflict," she said. "President Zelensky has energized conflict diplomacy through outreach to Ukrainian citizens in eastern Ukraine, enabled improvements to humanitarian conditions on both sides of the line of contact, negotiated two prisoner exchanges, and established a dialogue with President Putin that yielded the first Normandy Summit meeting since 2016."
Russia must end this conflict by withdrawing its forces from eastern Ukraine and Crimea, she said.
"And we call on Russia to immediately implement its security commitments under the Minsk agreements, as the parties can only move forward with the Minsk political measures when there is security on the ground. We also call on Russia to follow-through with the measures outlined at the recent Normandy Leaders' Summit in Paris to immediately stabilize the situation in the conflict area, which includes the opening of new civilian crossing points, disengaging military forces in areas with the greatest humanitarian significance, and implementing ceasefire support measures," she said.
As UNIAN reported earlier, Russian occupying forces on Tuesday morning attacked Ukrainian defense positions in Donbas, using 120mm mortars proscribed by the Minsk agreements. Under fire cover, the Russian invaders began their offensive operation and attempted to advance across the contact line. One Ukrainian soldier was killed and another five were wounded amid the fight. The enemy's casualties included four killed and six wounded.