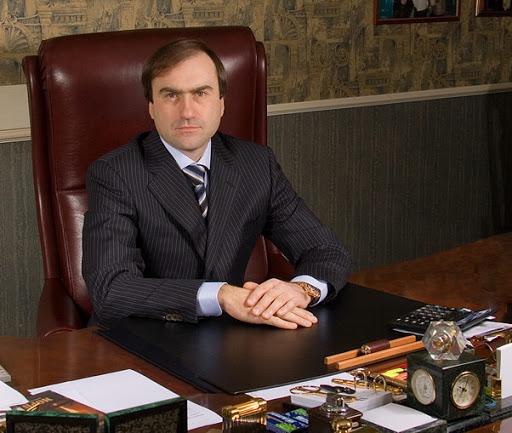 Photo from FC Sherrif
Viktor Gusan, owner of the largest business in Moldova's breakaway region of Transdniester, has Ukrainian citizenship as well as land and property ownership in Kyiv and Odesa regions of Ukraine, an investigative journalism group reported over the weekend.
A former KGB officer, Gusan controls through firms linked to him a 600-square-meter estate in Odesa region that he uses as a vacation home, according to Skhemy (Schemes), a joint venture of RFE/RL's Ukrainian Service and UA:Pershy television.
It stands on 6,000 square meters of land that includes two docks, several security buildings, boats, a garden, vineyards, a gazebo, and a guest house.
The journalists discovered that since summer 2019, prosecutors have had an investigation open for "unauthorized construction on an unauthorized occupied area," which refers to "particularly valuable lands along the Danube River."
He allegedly owns other properties or land along the bank of the Danube River and a villa elsewhere in Odesa region.
Read alsoPresident Zelensky doesn't want frozen conflict in Donbas, warns against Transnistrian scenario
Another residence with an area of 275 square meters stands on 1 hectare of land on an island in Odesa region.
That property is listed as recreational in the government real estate registry although the local district administration says there is no real estate on the island.
Gusan also allegedly owns land outside Kyiv that is designated as agricultural, Skhemy found, although only Ukrainians can legally own farmland.
Citing anonymous sources at the State Migration Service, the journalists found that a person recently visited one of Gusan's properties after crossing the border using a Ukrainian passport with the same name and date of birth as the tycoon.
Gusan didn't respond to requests for comments on the story, Skhemy said.
Pro-Russian separatists in Transdniester declared independence from Moldova in 1990 amid concerns that officials in Chisinau would seek reunification with Romania as the Soviet Union fell apart.
The separatists fought a war against government forces two years later in which about 1,000 people were killed.
Gusan founded his Sheriff business holding a year after the war, according to The New York Times.
The conflict has been frozen since Russian troops stationed in Transdniester during the Soviet era intervened on the side of the separatists.
Transdniester's independence is not recognized by any internationally recognized country, but Moscow has unofficially backed the separatists' self-declared government.
It is a mostly secretive, 24-mile-wide Moldovan territory that borders Ukraine.
Gusan's holding company "monopolized and controls almost every aspect of life in Transdniester," according to the U.S.-based Foreign Policy magazine.
It reportedly owes its fortune to the illegal trade in cigarettes, alcohol, and food, much of which allegedly ends up smuggled out of the Odesa port 80 kilometers away.
As the biggest employer in the territory, Sheriff runs supermarkets, gas stations, a cell phone network, fitness centers, a cognac distillery, and one of the region's two television networks.
Gusan also owns the local soccer team FC Sherrif, which plays out of Tiraspol.