Photo from UNIAN
Kyiv's Sixth Administrative Court of Appeals has reinstated former Chairman of the State Fiscal Service (SFS) of Ukraine Roman Nasirov.
Read alsoSupreme Court moves corruption-related case of ex-tax agency chief from impasse
"A ruling by Kyiv's district administrative court dated December 11, 2018, regarding recognition as unlawful and cancellation of Cabinet decree No. 35-r of January 31, 2018 'On Dismissal of Person_1 [Nasirov] from the Post of Chairman of the State Fiscal Service of Ukraine' shall be left unchanged," the new court ruling says.
The document enters into force on the day of its adoption and may be appealed by filing a cassation appeal to the Supreme Court within 30 days after the full court ruling is available.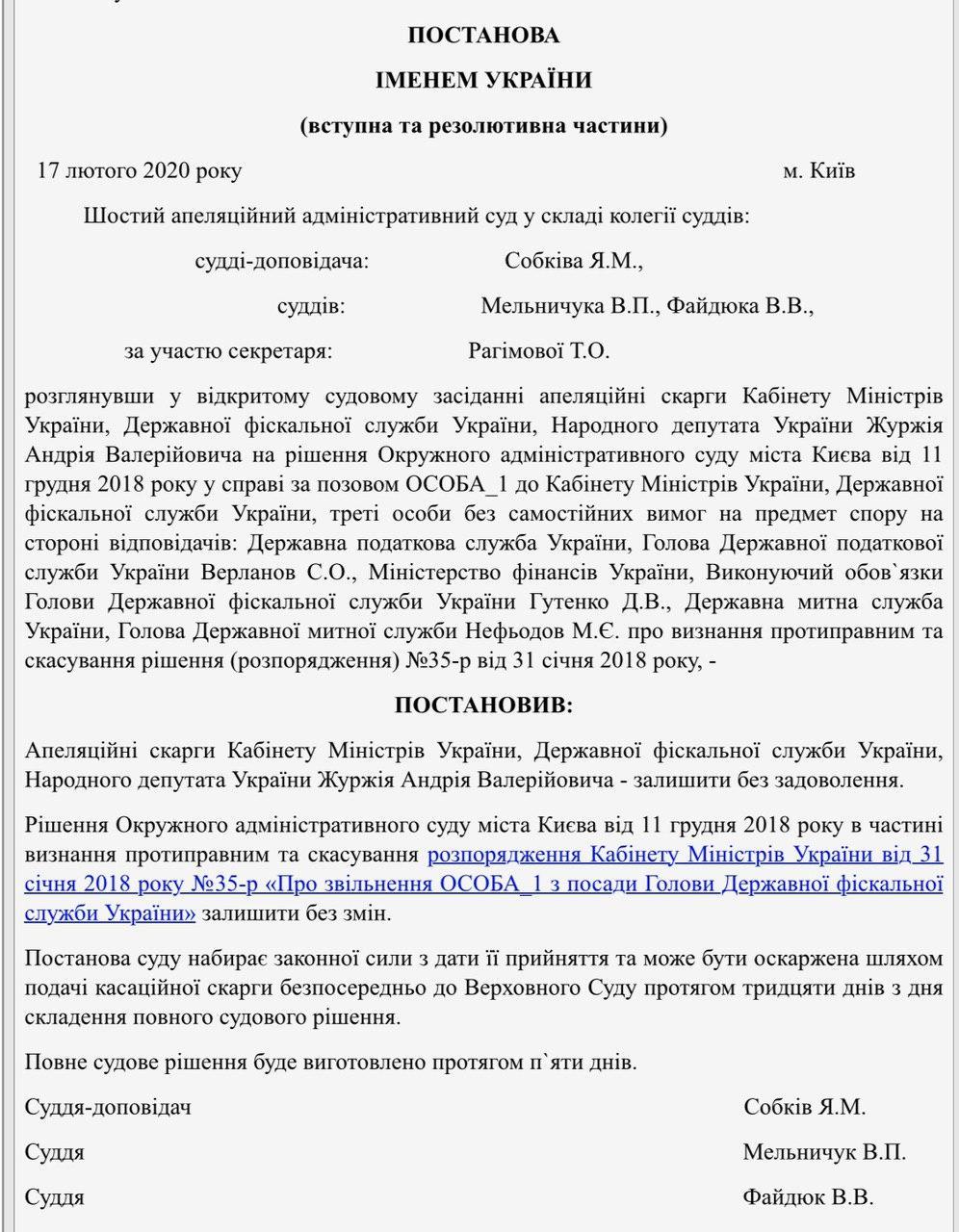 Court ruling's screenshot
As UNIAN reported, prosecutors from the Special Anti-corruption Prosecutor's Office on November 10, 2017, filed an indictment against Nasirov and his subordinate, the head of the SFS debt repayment department, Volodymyr Novikov.
Nasirov is accused of abuse of power or official position and official forgery under Articles 364 and 366 of the Criminal Code of Ukraine. His subordinate is charged with committing crimes under Part 5 of Article 27 (complicity) and Part 2 of Article 364 (abuse of power or official position). Investigators insist Nasirov, acting in the interests of Member of Parliament Oleksandr Onyshchenko, initiated unsubstantiated installment of the tax debt to three companies in 2015-2016, which caused almost UAH 2 billion in budget losses.
The Cabinet of Ministers on March 3, 2017, suspended Nasirov during the investigation, and on January 31, 2018, he was dismissed from his post.