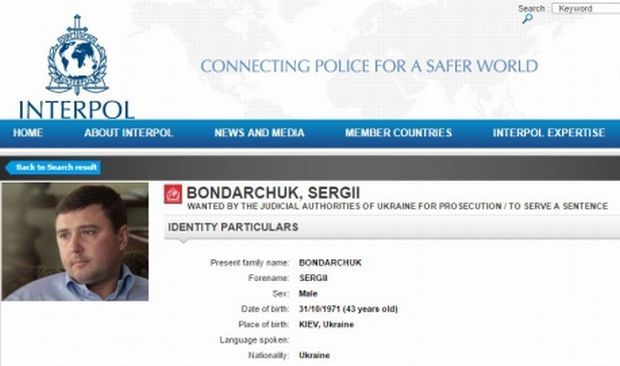 Photo from interpol.int
Bondarchuk is charged with the embezzlement of an extremely large amount of money, according to Interpol. 
As reported earlier, Bondarchuk was announced wanted by the Division for Combating Organized Crime of the Main Department of Interior Ministry in Kyiv on February 16 on suspicion of committing crime under Part 5 of Article 191 of the Criminal Code ("appropriation, embezzlement of property on an especially large scale").
On January 21, the Chief Military Prosecutor's Office notified Bondarchuk that he was suspected of misappropriating more than $7.4 million of funds of Ukrspetsexport, which was followed by a court order for his detention in order for him to attend a hearing. However, on January 28, the former head of Ukrspetsexport was said to have disappeared.
Bondarchuk managed Ukrspetsexport during the whole presidency of former Ukrainian President Viktor Yushchenko.