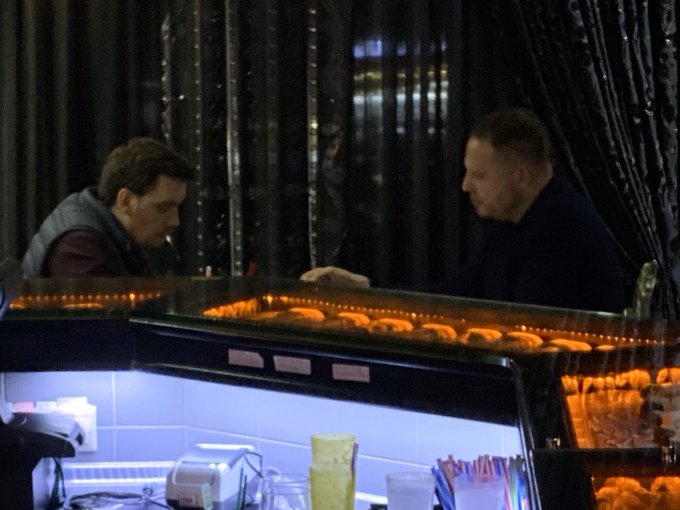 twitter.com/ChristopherJM
Prime Minister Oleksiy Honcharuk and Head of the President's Office Andriy Yermak were spotted meeting in a Kyiv restaurant Sunday night.
Kyiv-based journalist Christopher Miller initially reported on the meeting as he happened to be at the same restaurant.
"Interesting! Not the best photo but this is Ukrainian Prime Ministry Oleksiy Honcharuk and Zelesnky chief of staff Andriy Yermak dining at the Indian restaurant in Kyiv where I am right now. Honcharuk is expected to be ousted Wednesday," Miller wrote on Twitter.
"Of all the Indian joints in Kyiv (OK, there aren't that many), two of Ukraine's most senior officials chose the one where a group of journalists were dining at  – and amid reports of a feud between them and the PM's possible dismissal," the journalist added.
Ukrainian Pravda published a short video on Honcharuk and Yermak leaving the restaurant.
Прем'єр-міністр Олексій Гончарук та голова ОП Андрій Єрмак у неділю ввечері зустрічалися в індійському ресторані Sutra. У середу має відбутися голосування за відставку Гончарука 🤷‍♀️ Відео УП pic.twitter.com/nc9en8Jv2E

— Українська правда ✌️ (@ukrpravda_news) March 1, 2020
Earlier, a number of Ukrainian media, citing sources in government circles, reported on the possible appointment to the prime minister's post of a businessman, former Deputy Prime Minister and Minister of Social Policy (2010-2012) Sergiy Tigipko.
It was also reported that Honcharuk would be replaced within the next two weeks. Zelensky himself told reporters that he did meet with Sergiy Tigipko, among other figures.
On February 28, Head of the Verkhovna Rada, Dmytro Razumkov, scheduled an extraordinary plenary parliament meeting for Wednesday, March 4.
According to the President's Office, the head of state asked the speaker to put on the agenda the issue of considering several draft laws on the Cabinet of Ministers.