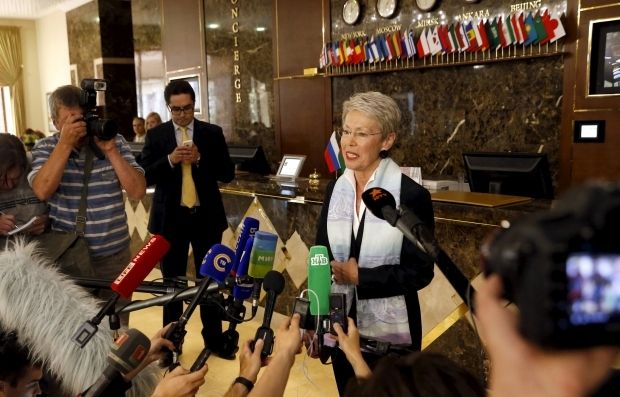 REUTERS
"There has been progress, but no breakthrough. We still have to work," the representative of the OSCE in Ukraine Heidi Tagliavini said on Tuesday evening after the meeting of the Trilateral Contact Group.
The representatives of the self-proclaimed Donetsk and Luhansk People's Republics, who are traditionally invited to the meeting, were more categorical.
"We expected more. There are positive steps, but they are not enough to fully resolve the conflict and to consolidate the ceasefire," the representative of the DPR militant organization Denis Pushylin told journalists.
The latest round of negotiations on the implementation of the Minsk agreements was as usual closed to the press.
A closing meeting of the Trilateral Contact Group was preceded by the work of subgroups that had been formed earlier with the participation of the representatives of the DPR and LPR militant organizations. But only three out of four subgroups worked this time on security, political and humanitarian issues in Minsk.
The work of a subgroup on economic issues was also disrupted last time, according to reports, because of the absence of the Russian representative. But it has not officially announced the reason for the recent failure.
However, the parties have managed to make some decisions.
"The dynamics of the talks are rather weak, but there is progress on some issues. We have determined certain positions. In particular, concerning the withdrawal of weapons less than 100mm caliber. Now we're agreeing on technical details, that means that the question is almost resolved," the representative of the LPR Vladyslav Deineho said.
At the same time, the weapons of such caliber should have been withdrawn from the demarcation line in early March. According to the OSCE special monitoring mission, this paragraph of the Minsk agreements has not been implemented by either of the sides.