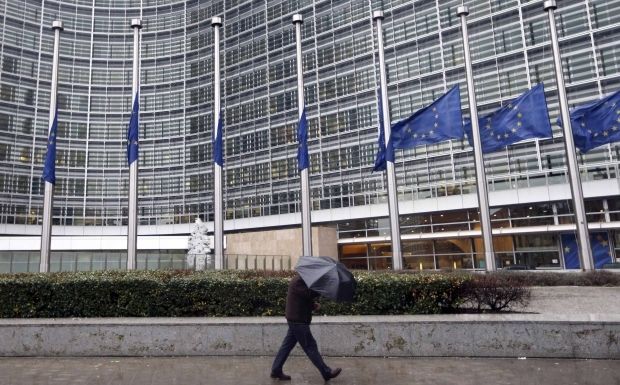 REUTERS
This is mentioned in an EU comment, prepared by the Delegation of the European Union to Ukraine on the article titled "Minsk 2.5 – New Ideas of Brussels Helping the Kremlin," which was published by eurointegration.com.ua on Tuesday, June 23.
In its comment, the EU acknowledges that during bilateral meetings it is "aiming at a peaceful resolution of the conflict in full respect of Ukraine's independence, sovereignty and territorial integrity."
The EU insists that they have the right to ask Ukraine to grant special status to Donbas as soon as possible, eurointegration.com.ua editor Serhiy Sydorenko wrote in a new article on Wednesday, June 24.
"Article 11 of the Package of Measures outlines the agreement in relation to carrying out constitutional reform in Ukraine, including providing for adopting permanent legislation on the special status of certain areas of the Donetsk and Luhansk regions until the end of 2015," the new article quotes the EU's comment.
Earlier, a number of mass media reported that the EU was persuading Kyiv to fulfill the "later" provisions of the Minsk accords, namely regarding Donbas' special status, without waiting until Russia and Russian-controlled militants implement their part of the Minsk agreements.
This was announced by European Commissioner for European Neighborhood Policy and Enlargement Negotiations Johannes Hahn during his recent visit to Kyiv, where he met with Ukrainian parliamentarians and Ukrainian President Petro Poroshenko.
Deputy Chairman of the Verkhovna Rada's Committee on Foreign Affairs Ivanna Klympush-Tsintsadze confirmed the request had been made by the EU.