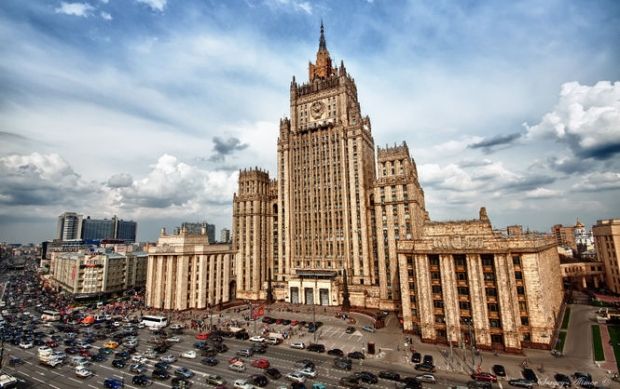 mskbest.ru
The Russian Foreign Ministry has said Ukraine abandoned the idea of creating a so-called "advisory council" with Donbas militants as was allegedly previously agreed in Minsk.
The ministry claims the latest meeting of the Trilateral Contact Group (TCG) in Minsk on March 26 "resulted in failure," as reported on the ministry's official website.
"Thanks to direct contacts with Ukrainian partners, important agreements had been reached that could move the settlement process off the ground. In February - March, the sides brought together their positions on disengagement of forces and prisoner swap, started developing a 'road map,' reached an agreement in principle on the formation of an Advisory Council and fixing the decisions of the Contact Group in written minutes," reads the statement.
After that, Russian diplomats added, "strange things started to happen."
Read alsoChief of staff Yermak: Ukraine, Russia two parties to conflict in TCG format, OSCE between them
"During phone talks, the aides of the Normandy leaders in Berlin and Paris, under various pretexts, avoided supporting the agreements between Kyiv and Donbas. Following this, Kyiv also abandoned these agreements at the meeting of the Contact Group on March 26. It seems the Ukrainian negotiators did this with some hint from the outside. Such a rollback from the agreements reached and fixed crosses out positive dynamics that have been outlined," the Russian Foreign Ministry said.
As UNIAN reported, Minsk on March 11 hosted a Trilateral Contact Group meeting with the participation of head of the Ukrainian President's Office Andriy Yermak and Deputy Head of the Russian President's Administration Dmitry Kozak. The two agreed to sign the TCG decision on the establishment of an "advisory council" as part of the political subgroup following consultations with representatives of the OSCE, France, and Germany for the implementation of the agreements reached during the Normandy summit. The signing was scheduled to take place at the next meeting in Minsk on March 25.
Later, the Ukrainian-registered Dzerkalo Tyzhnia (Mirror Weekly) outlet published a copy of the minutes of meeting signed in Minsk on March 11. According to the document, the criteria and procedure for appointing council members shall be independently determined by Ukraine, de-facto "authorities" of the occupied parts of Donetsk and Luhansk regions, the Russian Federation, Germany, France, and the OSCE.
Ten representatives from Ukraine and the Russia-occupied areas of Donbas were supposed to each have the right to casting votes, while one representative each from Russia, Germany, France, and the OSCE were supposed to act in an advisory capacity.
Read alsoPro-president's party members appeal to Zelensky over principled positions in talks with Russia
A few days later, about 60 MPs with the Servant of the People Party called on President Zelensky to halt the process of creation of the advisory council as many believed the move would legitimize Russian puppet militants in the occupied Donbas, putting them on par with the Ukrainian government, as well as neglecting Russia's direct participation in the conflict.