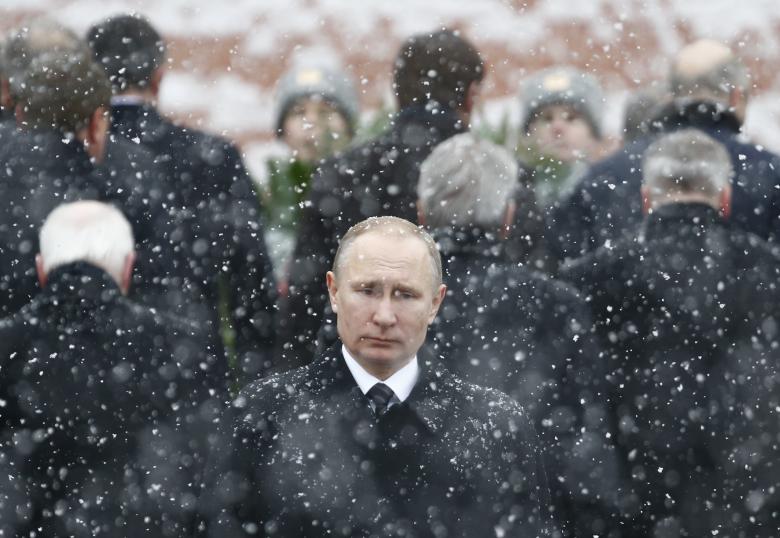 REUTERS
Ukrainian Foreign Minister Dmytro Kuleba has expressed confidence that Russian President Vladimir Putin has no other choice but to leave Donbas and Crimea alone.
His comments came during an online discussion hosted by the Atlantic Council (USA) on repelling Russian aggression, prospects for the Minsk talks, and a peaceful settlement in eastern Ukraine.
The minister said he was not observing any serious shifts in Ukraine's policies toward Russia and neither was he seeing any changes in Russia's policies toward Ukraine.
Since 2014, the top diplomat noted, the same set of issues has been discussed, while main narratives of the negotiating sides have remained unchanged all along.
"Russia insists now that it's not a party to the conflict with the same level of vigor and assertiveness as it did so in 2014. Russia calls on Ukraine to engage in direct dialogue with the so-called Luhansk and Donetsk people's republics as it has been doing since 2014," the minister said.
For its part, Kuleba added, Ukraine does not engage in direct dialogue with the said entities that are controlled by Russia.
Read alsoIdea of 'Donbas Advisory Board' to be viewed after consultations with France, Germany, OSCE – Yermak
"We insist that the Trilateral Contact Group is deliberately called trilateral because it consists of Ukraine, Russia, and OSCE. And of course, we consider Russia as a party to the conflict and not as a mediator or a facilitator or in any other capacity," Kuleba said.
Commenting on public anxiety about the issue of the so-called "consultative council" – the idea mulled at the Minsk talks where the new body was supposed to have onboard representatives of the occupied areas of Donbas – Kuleba said, "Ukraine will insist on the current structure of the Trilateral Contact Group. It consists of three actors – Russia, Ukraine, OSCE. Everything else is a matter of internal structuring within the contact group but we are not seeking direct dialogue with [the occupied] Donetsk and Luhansk."
"I will never agree as a minister to direct talks between Ukraine and Donetsk and Luhansk representatives," the minister added. "Everything else is the field, the space for the art of diplomacy. But there are certain red lines which I will not cross as a minister or as a citizen of Ukraine, and this is one of them."
Read alsoUkraine snubs idea of "advisory council" involving Donbas militants – MFA Russia
He recalled that Ukraine has been in talks with Russia on the exchange of held persons and disengagement of forces along the line of contact. "If we manage to build trust between the two parties – Russia and Ukraine – in these spheres, we can move further and try to unlock other issues which are on the agenda."
"Negotiating with Russia is like walking a minefield. You never know where it will blow up," the minister noted.
"But main lines of our policy and approaches to settling this conflict remain absolutely unchanged," Kuleba stressed.
"Putin has no other choice but to withdraw from eastern Ukraine and Crimea", the minister concluded.