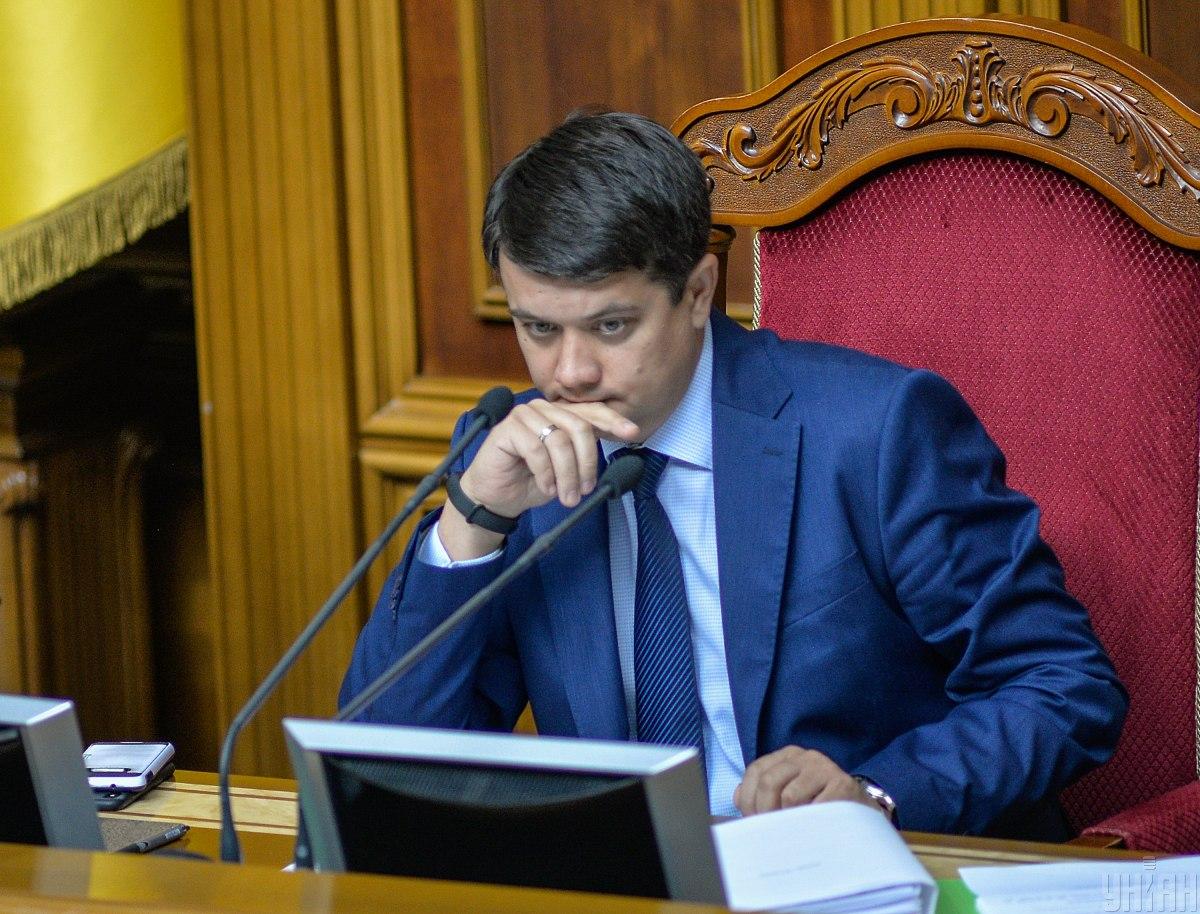 Dmytro Razumkov / Photo from UNIAN
Chairman of the Verkhovna Rada of Ukraine, Dmytro Razumkov, an opportunity is available to consider any bill within seven to 10 days despite an excessive number of amendments being filed by deputies as a move to delay the vote.
A special procedure will be envisaged for such cases if MPs approve changes to regulation, Razumkov told a panel show on ICTV April 13, responding to a question on when the parliament could complete second reading of a bill on banking regulation required by the IMF to launch another cooperation program, and what needs to be done to tackle the problem of an excessive number of amendments being submitted to delay the vote.
 "Today, it will be quite difficult to name the exact date when this bill may be considered in the Verkhovna Rada of Ukraine," Razumkov said and reminded over 16,000 amendments had been submitted to the bill.
He said such a significant number of amendments was aimed at delaying the process of the bill's consideration.
The speaker noted the bill may be considered in the session hall only after the profile committee determines the amendments it supports or recommends rejecting.
Read alsoParliament speaker comments on progress of legislative changes required by IMF
"Today there are several processes and discussions ongoing in parallel lines in the Verkhovna Rada. These are changes to parliamentary regulations, and perhaps this is one of the main proposals as of today... There are changes submitted by the Servant of the People faction at the beginning of our work. I mean bill No. 1043," he said.
Razumkov added that the draft that had already passed first reading had "good proposals" that would allow creating a procedure for "considering within a week or a week and a half any bill that was deliberately delayed."
"The proposal the committee has today... If there are over 500 amendments, if there are five times more amendments than there are articles or paragraphs in the bill, after the summary table is drawn, the procedure for collecting 150 signatures is applied. After that, this issue is considered at the meeting of the Verkhovna Rada of Ukraine. If 226 lawmakers vote for it, each parliamentary faction and group can provide five amendments and proposals to the relevant committee that have not been taken into account," Razumkov said, adding that non-factional MPs may insist on considering one unaccounted amendment.
Later, the profile committee shall be given two days to make a summary table with these amendments already taken into account by the committee.
"Thus, according to my colleagues' estimates, this can take from one and a half to three hours to consider the issue," Razumkov added.