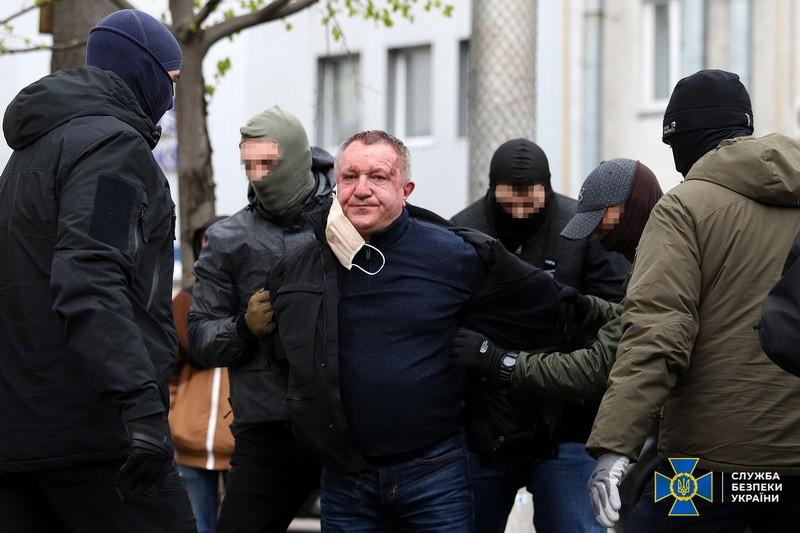 Shaitanov was detained on April 14 / Photo from ssu.gov.ua
Ukrainian Deputy Interior Minister Anton Gerashchenko says that Major General of the SBU Security Service of Ukraine Valeriy Shaitanov, who has recently been detained on suspicion of high treason, was involved in preparations for an assassination attempt on Interior Minister Arsen Avakov.
"This morning, I spoke with the interior minister. He confirmed that the Security Service and its channels had informed that Major General Shaitanov, along with [arranging] a contract killing of Adam Osmayev, was also working on an attempted assassination of the interior minister," Gerashchenko said on television on April 16, according to nv.ua.
Gerashchenko also said that he was aware of Shaitanov's contacts with Russia's FSB. "He [Shaitanov] would go on work-related trips abroad, but our European and American counterparts keep the situation with Russian agents under control – they informed the SBU that the SBU's general had strange ties and contacts with Russian intelligence," he said, adding that after this, the Ukrainian agency started "digging into Shaitanov and exposed him."
Read alsoRussia's FSB reports about detention of Ukrainian 'terrorist' in occupied Crimea (Video)
As UNIAN reported earlier, SBU counterintelligence agents detained Shaitanov on April 14.
According to the materials of the case, Shaitanov, who is one of the former chiefs of the SBU's "A" Special Operations Center, was secretly working for Russian FSB Colonel Igor Yegorov.
Investigators have evidence that, acting as Russian special services instructed, Shaitanov planned to commit terrorist acts in Ukraine. He was promised a reward of US$200,000 and Russian citizenship. Shaitanov hired a former special forces member for the acts.
It was established that Shaitanov had collected information on secret operations in the Anti-Terrorist Operation/Joint Forces Operation zone in Donbas and about personnel involved in them for further sharing it with the FSB.
He also informed the Russian side about Ukrainian special services' international security and defense cooperation; SBU and intelligence officers. He was also involved in recruiting officers from Ukrainian special and intelligence agencies to work for the FSB.
Shaitanov is suspected of high treason and terrorist attacks. In particular, he was engaged in preparations for the assassination of Adam Osmayev, the leader of Chechen volunteers fighting on the Ukrainian side against Russia-led forces in Ukraine's east.
On April 15, Kyiv's Shevchenkivsky district court ruled to remand Shaitanov in custody until June 14.