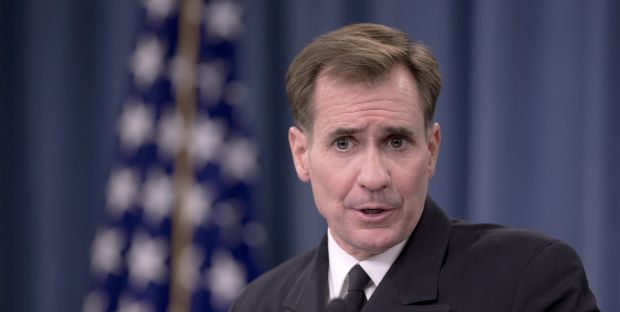 AP Images
"The violence you are referring to is totally unacceptable, totally unacceptable. And we expect all Ukrainians, no matter their affiliation or organization, to respect law and order," U.S. State Department spokesperson John Kirby said at a daily press briefing in Washington, DC, on July 15.
Kirby also told journalists that the Ukrainian government should determine the role of the country's volunteer battalions within the national security forces as soon as possible.
"In terms of the Right Sector and where they are in terms of Ukraine's security apparatus is up to the government of Ukraine to decide how this integration is going to be implemented," Kirby said.
"But we continue to urge the Ukrainian government, as we have, to complete this transition as soon as possible precisely because of concerns such as that gun battle reported over the weekend," he added.
Asked about whether the U.S. assists in training Right Sector personnel, Kirby answered: "The U.S. is not training any members of Right Sector."
As UNIAN reported earlier, the shoot-out occurred in the town of Mukacheve in Zakarpattia on July 11 during a conflict between the Right Sector organization and the people close to Ukrainian MP Mykhailo Lanyo.
Prosecutor General of Ukraine Viktor Shokin created a combined investigation group from prosecutors, the SBU Security Service, and Interior Ministry officials to investigate the incident.
Criminal proceedings were opened under Part 1 of Article 255 of the Criminal Code of Ukraine (creating a criminal organization) and Part 3 of Article 258 (a terrorist act).