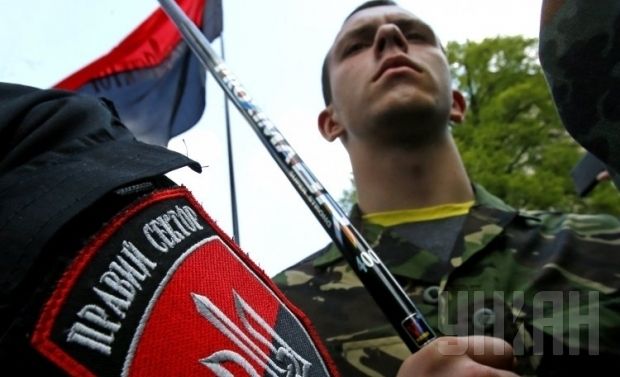 Yarosh proposes to grant amnesty to the Right Sector fighters involved in Mukacheve conflict / Photo from UNIAN
"We are ready to make a step forward to the State and join the ranks of the Armed Forces on our terms. Why not grant an amnesty for these people [the Right Sector fighters, who are now blocked in the woods]," said Yarosh at a press conference in Kyiv on Friday, according to Ukrainska Pravda.
"They might wash away their guilt with blood. [The guilt is] That they have succumbed to the provocation", he added.
According to the Security Service of Ukraine, there are six Right Sector fighters now blocked in the woods in Zakarpattia. According to the Right Sector, "this number is just about right".
When asked about what happened to the other fighters, because previously, there were reports of 20 Right Sector members who had retreated into the woods, Yarosh reminded that there were two casualties among his men, four fighters have been detained, and further suggested that the initially reported numbers might have been "inaccurate".
"Now, part of the guys is in the mountains. We see what forces were thrown for either anti-terrorist, or police operation, and it is striking: all kinds of Special Forces one can imagine, aviation, five APCs in each village. This is surprising," he stressed.
When asked, where the fighters got their weapons, and whether the Right Sector leadership has control over the organization, Yarosh said that "some weapons are registered, and some were out there since the days of the revolution [the Revolution of Dignity in early 2014]."
"Now, we are planning to deliver to the ATO zone all weapons that we identify as unregistered. But as you see, it was, in fact, the first time when such incident occurred," said Yarosh.
UNIAN memo. The shootout occurred in Mukacheve on July 11 during a conflict between the Right Sector and the people close to Mykhailo Lanyo, Ukrainian MP. According to representatives of the Right Sector organization, Lanyo, himself, had called them to hold talks, because the Right Sector started interfering with the flows of contraband.
Criminal proceedings were opened under Part 1, Article 255 of the Criminal Code of Ukraine (Creating a criminal organization) and Part 3, Article 258 (Terrorist act)