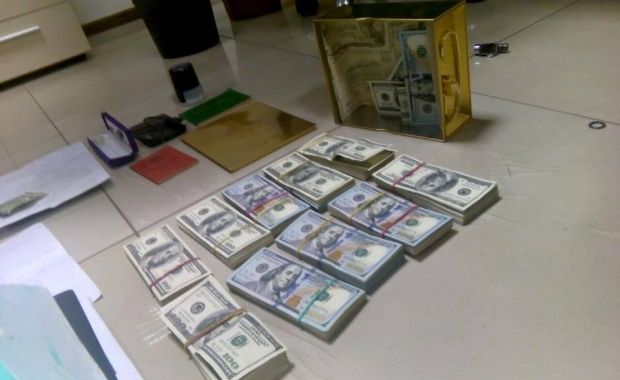 Nearly $500,000 discovered during the search of a suspected prosecutor / facebook.com/EuroMaydan
According to the source, the said amount has been supposedly collected by Hibalenko's relatives and transferred to the appropriate government account.
Another suspect, former first deputy head of the main investigation department of the Prosecutor General's Office Volodymyr Shapakin was also bailed out earlier.
Thus, to date, of the three defendants in the case, only the former deputy prosecutor of the Kyiv region Oleksiy Korniets remains detained, as his family has not yet collected the amount of money determined by the court for bail, according to the source.
As UNIAN reported earlier, citing the SBU press center, a joint operation by SBU and PGO resulted in detainment of first deputy chief of MID of the PGO Volodymyr Shokin and deputy prosecutor of Kyiv region Oleksandr Korniets. $ 500,000 in cash and a significant amount of jewelry was seized during the searches.
The investigation found that the officials of the Prosecutor's Office conspired and received a UAH 3,150 million bribe. The suspects seized equipment from the company, engaged in mining of sand in the Kyiv region, thus blocking its operation. For the return of seized equipment, officials demanded and received through intermediaries the equivalent of $ 150,000 in Ukrainian hryvnya.
During searches of Shapakin, $ 400,000 was seized, while the searches of Korniets revealed 65 diamonds and a Kalashnikov assault rifle.
The court set up a UAH 3 million bail for Shapakin, while a UAH 3.2 million bail was set for Korniets.