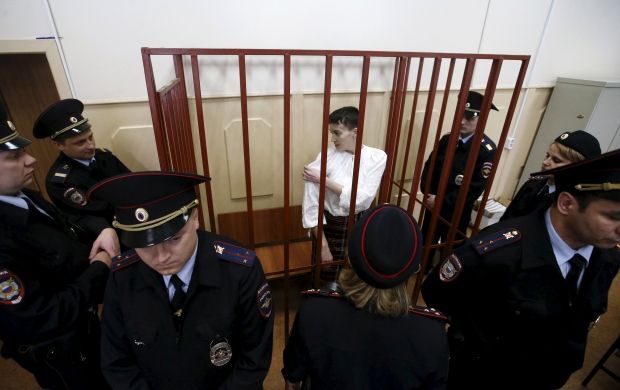 REUTERS
"We have grounds to notify a number of officials of the Russian Federation on suspicion of committing certain criminal offenses in relation to Nadia Savchenko," said Stolyarchuk.
The official noted that the PGO had officially filed a request to Russia's Prosecutor General's Office that it provide legal aid, according to which the suspects must be notified on the suspicion.
He noted that among the seven people - two "even high-ranking officials of the Russian Federation." According to Stolyarchuk, among the seven suspects there are even "officers of the investigative division of the Investigative Committee of the Russian Federation, who, we believe, as there is evidence, wrongfully detained and kept her in custody without any grounds".
"There are three employees of court of the Russian Federation, which in turn, each time for no reason" ruled to hold Savchenko in custody, said the Deputy Prosecutor General.
He also noted that among the suspects there is an "official of the Ministry of Foreign Affairs of the Russian Federation", who deliberately had taken no steps to release Savchenko, including after her acquiring the status of a member of Ukraine's delegation to PACE.
Read alsoSavchenko legal team to file complaint to ECHR - lawyer
According to Stolyarchuk, the seventh suspect is a "citizen of Russia, who was directly involved in her illegal detention and her illegal trafficking abroad."
Stolyarchuk noted that pre-trial investigation is not finished with this move.
Read alsoSavchenko faces 25 years in Russian prison
He also said that the PGO has sent an appeal to the Ministry of Foreign Affairs of Ukraine on the promotion of the move in line with international agreements.
UNIAN's memo. Savchenko was abducted by Russia-backed militants in Donbas last summer, and then taken to Russia, where she was charged with being involved in the death of Russian journalists. However, the defense claims she couldn't have been involved in the death as she had been captured before the journalists were killed.