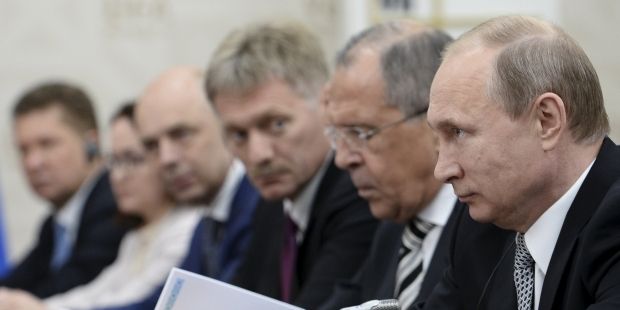 REUTERS
"In general, the principle of mutuality, certainly, is the basic principle in such an exchange of sanctions. At the same time, some asymmetric actions cannot be ruled out. But again, I repeat one more time, this is not a goal, in itself," Peskov has told the journalists, according to an UNIAN correspondent.
Peskov also called the US move unreasonable, adding that it has no goal in sight.
Meanwhile, spokesman for the U.S. embassy in Russia William Stephens told PRIME business news agency that the step was not meant to scale up the sanctions. "In order to make sure that the current sanctions had an effect, we must at times refresh the list that we have and today's extension of the list is targeted against those who escape sanctions or support such people," the official said.
As UNIAN reported ealier, sectoral sanctions were imposed on July 31 against companies within VEB and Rosneft groups. In particular, Russian Direct Investment Fund Management Company, VEB-Leasing OJSC, VEB Capital, Sviaz-Bank, RN-Yuganskneftegaz LLC, Rosneft-Trading, Eksiar and Globeks Bank, according to the US Department of the Treasury report.     
Roman Rotenberg, Serhiy Kurchenko and Oleksandr Yanukovych (son of ousted Ukrainian ex-president Viktor Yanukovych) appear on an updated sanctions list. MACO Holding belonging to Oleksandr Yanukovych and JSCO Prominvestbank belonging to Russia's VneshEconomBank, also fell under sectoral sanctions.
Russia recognizes that the US sanctions may stay in force for a long period of time, and  is ready for such developments, as Russian Prime Minister Dmitry Medvedev stated earlier.