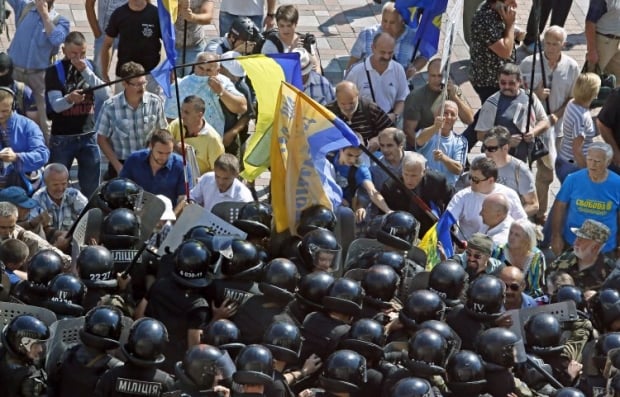 There were clashes outside the Rada building in Kyiv on Monday / Photo from UNIAN
"What we've got as of now, 122 persons who have been wounded in clashes outside the Verkhovna Rada, in an explosion of a grenade thrown by Svoboda Party representatives and protesters. One of them, a 24-year-old National Guard serviceman, who is a conscript from the city of Kherson, has died. Twelve people are undergoing surgery in a Defense Ministry hospital, seven people are undergoing surgery in Interior Ministry hospitals, several of them are in a serious condition. One of them is in a deep coma," Avakov said at a briefing in Kyiv on Monday.
What is more, two French TV journalists have also been wounded and are in a hospital now.
Among the wounded are servicemen from the National Guard, police officers, the state guards service, the interior ministry's riot police and police officers from Kyiv police stations.
"Deputy Minister Vasyl Paskal [in charge of criminal investigation] has a shrapnel wound," the minister said.
Photos from UNIAN
As UNIAN reported, clashes outside the Ukrainian Verkhovna Rada in Kyiv started shortly after the parliament had voted on decentralization-related amendments to the Constitution on Monday.
Protesters disagreeing with the amendments started throwing bottles, smoke bombs and paving stones at law enforcement officers. Also, a grenade was thrown at them.