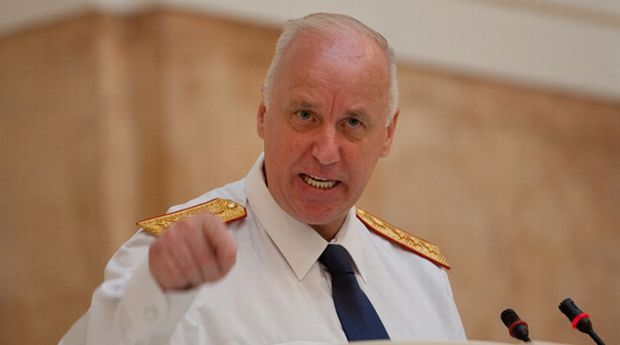 Bastrykin claims Yatsenyuk was part of punitive groups / etoonda.livejournal.com
The Russian investigators have questions to the Ukrainian citizens Dmytro Korchinsky, Ihor Mazur, Valery Bobrovich of the UNA-UNSO, the leader of the Right Sector Dmytro Yarosh, the leader of the Svoboda Party Oleh Tiahnybok and his brother Andriy in connection with the war in Chechnya in 1994-1995, according to  Bastrykin's interview with Rossiyskaya Gazeta, Ukrainska Pravda reported.
"The investigation also found that at the time, Arseniy Yatsenyuk  fought by their side against the Russian military as part of Argo punitive group, and later - Viking, led by Oleksandr Muzychko," said Bastrykin.
"According to the investigation, Yatsenyuk took part in at least two of the armed confrontations that took place on December 31, 1994, on the Minutka square in Grozny and in February, 1995, outside the city hospital 9 in Grozny; as well as in torture and executions of prisoners," he said.
Read alsoRussia set to extend its "universal jurisdiction" to DonbasIn addition, Bastrykin says that Yatsenyuk was conferred Honor of the Nation Dzhohar Dudayev's highest Honor of the Nation title in December, 1995. 
"In early 1995, Arseniy Yatsenyuk returned to Ukraine via Georgia with a group of journalists. Later, he was repeatedly seen at conventions and other events of UNA-UNSO in Kyiv," said Bastrykin.
Read alsoSentsov sentenced to 20 years, Kolchenko to 10 years in prison for terrorismAccording to the official biography of Arseniy Yatsenyuk, in 1995, he had studied law at the University of Chernivtsi.
UNIAN memo. UNA-UNSO) is a Ukrainian political organisation seen as far-right in Ukraine and abroad. Although the Ukrainian National Assembly (UNA) was the organisation's political wing, on 22 May 2014 it merged with Right Sector; the UNA-UNSO continues to operate independently.
Oleksandr Muzychko was a Ukrainian political activist, a member of UNA-UNSO and coordinator of Right Sector in Western Ukraine. Russian prosecutors accused him of killing "at least 20" captive Russian soldiers during the First Chechen War. The inquiry by the Russian Investigative Committee began in March 2014, years after the alleged killings. Muzychko jumped into media spotlight on February 27, 2014, after attacked the Prosecutor of the Rivne region in his office. On 11 March 2014, Russian State Duma opposition leader Valery Rashkin urged Russian special services to "follow Mossad examples" and assassinate Right Sector leaders Dmytro Yarosh and Muzychko. On 24 March, 2014, Oleksandr Muzychko was shot dead.