Poroshenko: Ukraine not ready yet to become NATO member
Ukraine is not ready yet to become a member of NATO as it has to be prepared for that, but the door of NATO is opened, Ukrainian President Petro Poroshenko said at a joint press conference with NATO Secretary General Jens Stoltenberg after the opening of Ukraine-NATO drills to eliminate consequences of emergencies "Ukraine 2015" in Lviv region on Monday.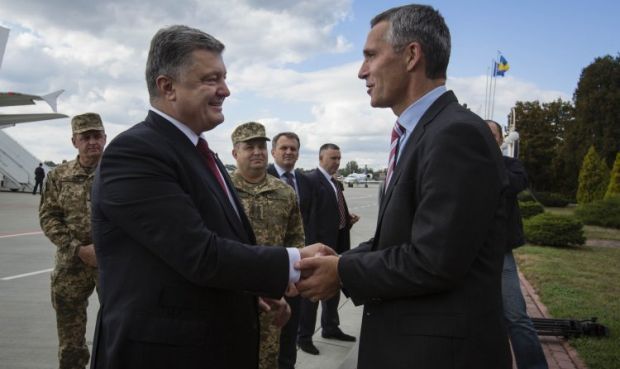 Photo from UNIAN
"We have a decision by the Bucharest Summit of NATO from the year 2008. This decision is an absolutely clear message to Ukraine – the door of NATO is opened to us. And we need to reform our country," Poroshenko said.
According to him, reform required for NATO membership is similar to that required for accession to the EU.
"This is democracy, this is anti-corruption, this is the rule of law, this is the investment climate, security sector and different others. And we're now strongly and decisively providing and implementing reform in our country, considering the door is opened," the president said.
"Is Ukraine ready now to be a member of NATO? The answer is very simple – no. And we should be prepared for that. Is NATO ready that Ukraine would be its member? The answer is the same – no," he said.
"But we should work hard to change my country, to become a member of the European Union, and these criteria, as I said, are the same by 99%. The door of NATO has been opened to Ukraine since the year 2008," Poroshenko added.
If you see a spelling error on our site, select it and press Ctrl+Enter