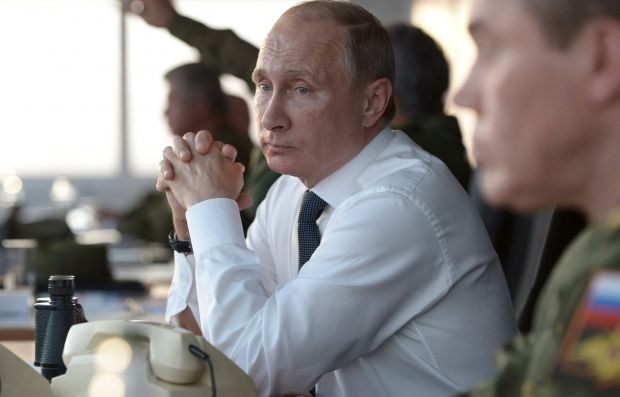 REUTERS
"I know that for sure," said Putin, answering a correspondent's question.
"I know those people who live in Ukraine. We have thousands of contacts with them. We know who and where, when, who exactly met with someone and worked with those who ousted Yanukovych, how they were supported, how much they were paid, how they were trained, where, in which countries, and who those instructors were. We know everything," Putin said.
The Russian president also claimed that he respects Ukraine's sovereignty, but also stressed that "we [Russia] want countries to respect the sovereignty of other countries and Ukraine in particular."
Putin denied involvement in overthrowing Viktor Yanukovych in 2014: "Russia has not taken part and is not going to take part in any actions aimed at removing the legitimate government."
Commenting on the presence of Russian troops at the border with Ukraine, Vladimir Putin said: "If we have our military forces on our territory, on the border with some state, you believe this is a crime?"
Read alsoPutin: Syrian war may be stopped by helping AssadHe reminded that "American tactical nuclear weapons are in Europe. Let's not forget that. What does this mean? Does it mean that you've occupied Germany or that you've transformed the occupation forces into NATO forces?"
However, Putin parried a question on Russia's military presence in Ukraine.
As Charlie Rose recalled a common saying of the Russians "Once a KGB man, always a KGB man," referring to Putin's past as an intelligence officer, the Russian president said: "Anything that we do, all this knowledge we acquire, all the experience, we'll have it forever and we'll keep that. And we'll use it somehow. So, in this sense, yes. They're right."
Read alsoRussian delegates leave UN General Assembly hall amid Poroshenko's speechAs UNIAN reported earlier, in his address to the UN General Assembly Vladimir Putin will talk about Russia's vision of today's international relations, the future of UN and the global community, and also the fight against terrorism and the Islamic State.