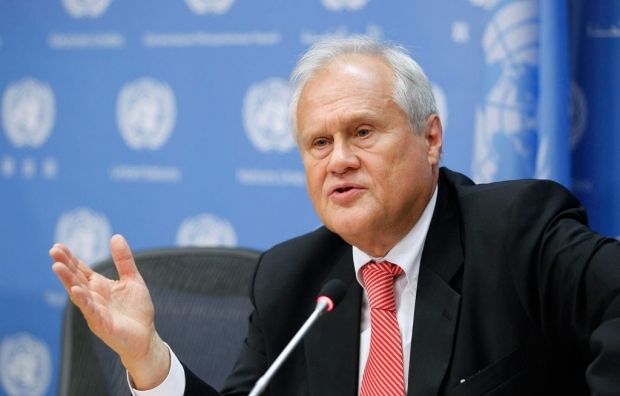 unmultimedia.org
It covers "the withdrawal of tanks, mortars and artillery of less than 100 millimeter caliber to a distance of 15 kilometers," said Martin Sajdik, the OSCE's representative at the peace talks, RFE/RL reports.
He added that the agreement will enter into force in two days and take 39 days to carry out. 
The deal supplements a broad agreement signed in February aimed at ending the conflict between the Western-aligned Ukrainian government and Russia-backed rebels in the east.
He said the Ukrainian envoy Leonid Kuchma has signed the deal, while separatist representative Denis Pushilin said the leaders of the self-styled Donetsk and Luhansk People's Republics, who were not present at talks, would sign the agreement by October 1.
The OSCE will monitor the withdrawal of the weapons, Sajdik said.
Weapons of over 100 millimeter caliber have already been withdrawn from the frontline in accordance with the ceasefire deal brokered in Minsk in February.
The leaders of Russia, Ukraine, France and Germany, who negotiated the Minsk deal, are meeting in Paris September 30 to try to push forward a political settlement for eastern Ukraine, where the fighting has killed more than 7,900 people since it began in April 2014.
The ceasefire declared as part of the February agreement was regularly violated by both sides until they declared a new truce on September 1, which has largely held.