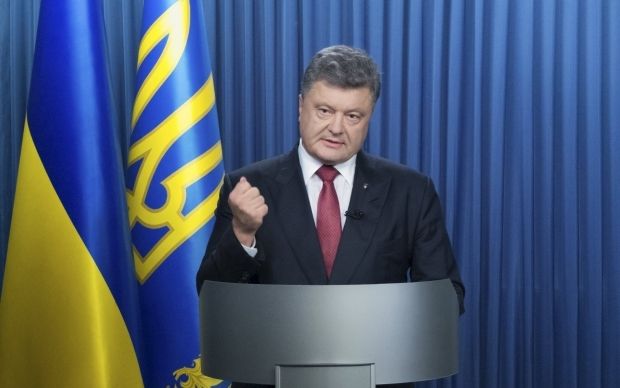 REUTERS
"New fantasies and blackmail by militants can lead to new sanctions against Moscow," the Ukrainian president said during a meeting with a U.S. Congress delegation consisting of senators Jeanne Shaheen, Richard Durbin and Elizabeth Warren in Kyiv on Monday.
Poroshenko thanked the guests for their consistent support for Ukraine in the provision of important assistance in countering Russian aggression and overcoming economic challenges.
He also briefed them on the situation in Donbas, particularly on the ceasefire and the abolition of pseudo-elections the Russian-backed militants were going to hold. However, he stressed, there are no positive signals and results, in particular, the OSCE Special Monitoring Mission to Ukraine doesn't have full access to militant-held territory yet. Neither is there good news about the liberation of hostages and illegally imprisoned persons, namely Ukrainian female pilot Nadiya Savchenko and Ukrainian filmmaker Oleh Sentsov, who are imprisoned in Russia.
Poroshenko also criticized new plans announced by leaders of the self-proclaimed republics in Donbas, the so-called DPR and LPR, to conduct local sham elections in 2016.
He also said that date of local elections there under Ukrainian laws will be set forth after the adoption of respective law by the Verkhovna Rada on the basis of Ukrainian legislation and with consideration of OSCE/ODIHR standards.
In this connection, the Ukrainian president called on U.S. and European partners to make every effort to ensure that Russia and the militants it supports clearly and strictly abide by the Minsk peace agreements. "The Kremlin should be aware that costs could be higher if the Minsk agreements have been violated. Transatlantic solidarity and response must be efficient," he said.
The senators in turn praised recent steps to de-escalate the situation in Donbas and expressed hope that the Russian party would fully implement the agreements.
The parties discussed ways of boosting cooperation to enhance Ukraine's defense capacity, stabilize the economic situation in the country and carry out domestic reforms, inter alia, in the framework of the implementation of the strategy of the fight against corruption.
Poroshenko briefed the guests on progress in public prosecution and judicial reforms.
The senators in turn emphasized that people should feel the first results of these reforms and democratic transformations.