Chernihiv court hears Korban's case
Novozavodskiy District Court in Chernihiv begins hearing on the restraint measure against the leader of the Ukrainian Union of Patriots – UKROP Party, Hennadiy Korban, after the several posponements, according to an UNIAN correspondent.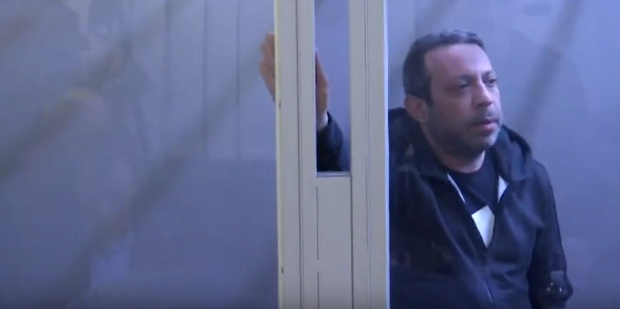 Screenshot
The court session was postponed several times during the day: at first it was scheduled for 10:00, then for 13:00 and 16:00.
The hearing started at about 17.00 Kyiv time in a small courtroom, so not all the journalists were able to get in. Law enforcers closed and guarded the entrance to the courtroom.
Korban's lawyer, Oksana Tomchuk, stated that the term of Korban's 72-hour detention (before court decides on a measure of restraint) expires at 8:00 Kyiv time on Tuesday. If the court fails to decide on the measure of restraint by that time, it must "release Mr. Korban in the courtroom."
Read alsoKorban suspected of organizing crime groupThe defense team claimed procedural violations in a hearing, such as the illegitimacy of prosecutors present in the courtroom (they failed to present the documents proving they are authorized to represent the state in this hearing, while the judge overruled the objection of the lawyer in this regard); the fact of holding a hearing at non-working hours (the judge did not present the documents proving he was assigned as a judge "on duty." The lawyer challenged the panel of judges (based on the absence of documents assigning them to hear cases in non-working hours), as well as of the court registrar (citing failure to check the assignment documents of prosecutors present at the hearing) and the prosecutors themselves.
After another judge took over the hearing, the lawyer also requested his disqualification due to the fact that he is not assigned as an investigative judge. 
In turn, the defense and Korban, himself, requested to postpone the hearing until 9:00 on October 3.
Read alsoSBU suspects Korban of organized crime activity, confirms detentionMeanwhile, MP Andriy Denysenko said in a live interview with NewsOne TV channel from the courtroom that an appeal in ECHR will be drafted in Korban's case, claiming the case was personally ordered by the president, therefore the Ukrainian justice can't be trusted: "The decision to appeal to the international courts was dictated by torture, which Hennadiy Korban had been subject to in a temporary detention facility of the SBU in Kyiv – for two days he was not allowed to eat and drink, the light was not switched off in his cell," said Denysenko.
If you see a spelling error on our site, select it and press Ctrl+Enter