Korban released from court room, taken to undisclosed location
New court hearings on UKROP party leader Hennadiy Korban at a Chernihiv court began on Tuesday morning, but a break was announced shortly after they started; Korban, who was brought to court from hospital, was released as the 72-hour detention period was over, according to TV Channel 112.ua.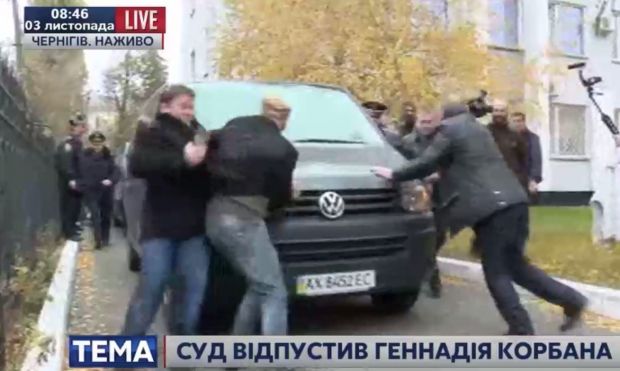 Korban's supporters are trying not to let a car with him go / Screenshot from 112.ua
"The 72-hour period after Hennadiy Korban was detained expired and he should be released according to laws as no pre-trial restrictions had been put on him. He was released from the court room," a 112.ua correspondent reported.
Parliamentarians present in the court tried to open the door of the court's building to take Korban with them, but failed. He was forced by unidentified people to get into a car and taken to an undisclosed location.
Lawyers made a statement that Korban had been kidnapped, according to an UNIAN correspondent.
"This is a cynical arbitrariness committed by the agencies who call themselves law enforcers. This is what was done under [ousted president Viktor] Yanukovych, and now it's even worse," MP from the UKROP party Andriy Denysenko said.
At the same time, lawyer Oksana Tomchuk said that she planned to "find her client, who was taken to an undisclosed location again." "We'll have to sort it out," she said.
"I think we've become the witnesses of a criminal office that has just been committed because the person must have been released from custody," she added.
As UNIAN reported earlier, the SBU Security Service of Ukraine started searches of UKROP party members in Dnipropetrovsk on Saturday. The searches were conducted in the house of Korban's parents, in the National Defense Foundation premises and in volunteers' houses.
Korban was detained in Dnipropetrovsk, later taken to Kyiv where he was questioned by the SBU and then to a Chernihiv court.
The Prosecutor General's Office (PGO) of Ukraine announced Korban was charged with creating a criminal group under Article 255 of the Criminal Code of Ukraine. What is more, investigator of the PGO Main Investigation Department Mykola Makeyev said that Korban was announced suspicion of violating Part 5 of Article 191 (large-scale misappropriation of public funds), Part 3 of Article 27 (complicity), Article 349 (kidnapping), Part 2 of Article 289 (theft of motor transport).
If you see a spelling error on our site, select it and press Ctrl+Enter