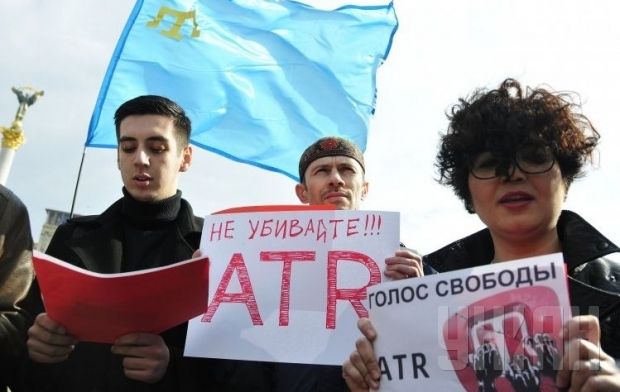 Photo from UNIAN
"My heart is bleeding when I only think about what is my 83-year-old mother guilty of, whom I was accompanying to the bathroom through the line of masked men with automatic guns? What is my 8-year-old granddaughter guilty of, who was awakened at the dawn by the words: "Do not be afraid, just do not be afraid." But still she was very scared. She asked: "Why do these men have guns? Are they going to shoot us? And her little legs were shaking…" Budzhurova wrote in her Facebook posting, Ukraine Today reported.
On her Facebook page Budzhurova appealed to the Russian authorities in Crimea to stop intimidating people:
"Yesterday I turned 57. At this age people have their priorities set. For me the priorities are my motherland (not only Crimea, but also all my people) and my family. Don't frighten them with guns!!!"
Read alsoActivists hold Moscow presentation of #Krymnash, book on illegal annexation of CrimeaApart from former ATR employees Russian riot police have searched the homes of organizers of an economic blockade of the occupied Ukrainian peninsula.
Lilya Budzhurova is the deputy director of ATR channel, reporter, poet and the head of the Crimean Association of Free Journalists.