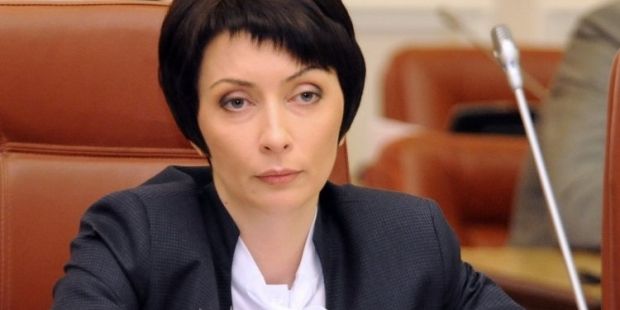 The investigation focuses on Lukash's statements during the Maidan revolution / Photo from UNIAN
The investigation focuses on Lukash's statements during the Maidan revolution and her endorsement of the so-called "dictatorial laws of January 16," according to SBU spokeswoman Olena Hitlyanska, an UNIAN correspondent reported from a Kyiv briefing.
"All of you remember her daring statements during the most terrible days of Maidan. You remember the decisions that have been endorsed by her, including the 'laws of January 16.' I believe all of this will be the subject of investigation of law enforcement agencies," said Hitlyanska.
"At this moment counterintelligence operatives are taking her to the Prosecutor General's Office to formalize her detention," said the SBU's spokeswoman.
Read alsoSBU detains former Justice Minister Olena LukashAt the same time, the PGO suspects Lukas in embezzlement of UAH 2.5 million from the state budget during the implementation of a national program of adaptation of the Ukrainian legislation in line with that of the European Union, that's according to the PGO spokesman Vladyslav Kutsenko, an UNIAN correspondent reported from a Kyiv briefing on Thursday.
"We have information that can confirm the possibility of Ms Lukash committing the crime under Art. 191 part 5 (large-scale embezzlement) and Art. 366 of the Criminal Code (forgery)," said Kutsenko.
"During the summer and autumn of 2013, Ms. Lukas, abusing her authority, in conspiracy with the other employees of the Justice Ministry, held auctions, which in fact were artificial, in order to implement the national program of adaptation of Ukrainian legislation to the EU legislation, having taken possession of funds totaling more than UAH 2.5 million. This is just one of the episodes, which will be investigated in relation to Ms. Lukash," said the prosecutor.
It was also noted that the PGO officials will announce suspicion to Olena Lukash today.
Read alsoInterior Ministry arrests UAH 2.6 bln in bank accounts owned by Oleksandr YanukovychUNIAN memo. On May 28, 2014, the Kyiv Prosecutors' Office announced that they had registered criminal proceedings on the fact of committing crimes by former Justice Minister Lukash.
The prosecutors reported that information about the following crimes committed by Lukash had been added to the state register of pre-trial investigations: offences under Part 1 of Article 367 (neglect of duty), Part 2 of Article 361 of the Criminal Code (unauthorized interference in work of electronic computing systems, automated systems, computing networks or telecommunications networks), related to the shutdown of all integrated and state-operated registers of the Ukrainian Justice Ministry's information network.
Being Justice Minister, Lukash in October 2013 ordered the acting Director General of state-run enterprise "Information Center" subordinate to the Justice Ministry to introduce illegal changes to the software supporting the work of the integrated state-operated registers. As a result of this, the systems failed to work properly, causing unauthorized blocking of information and distortion of data processing.