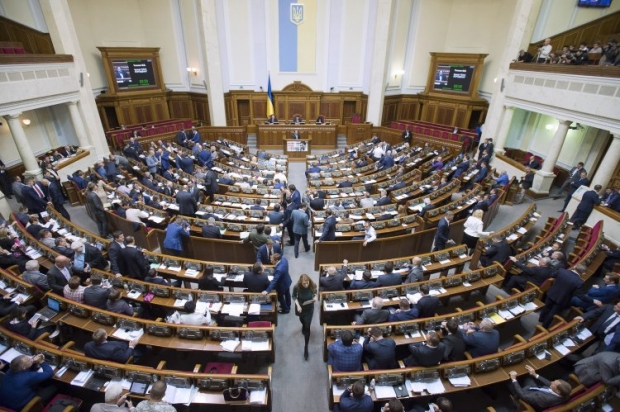 Rada will also consider anti-corruption draft laws / Photo from UNIAN
Among the draft laws regarding visa liberalization, there are anti-corruption bills related to the seizure of property and special confiscation, as well as the establishment of the National Agency for the identification, investigation and management of assets received as a result of corruption and other crimes, according to an UNIAN correspondent
Also today the deputies will consider a range of economic legislation, in particular on the reduction of the cost of gas for the population and creating the preconditions for a new model of the natural gas market.
The MPs also intend to vote the bill on ensuring the holding of local elections in Mariupol and Krasnoarmiysk in 2015.
Read alsoRada fails to adopt "visa-liberalization bills," consideration postponed until Nov 10Among other things, the Rada will consider the economic stabilization of the SJSC Chernomorneftegaz given the temporary occupation of the Ukrainian Crimea.
In addition, the bill will be considered on the reform of state and municipal print media.
The draft decree has been submitted to the parliament on state support of publications, scientific, educational and research programs aimed at covering the issue of Russia's aggression against Ukraine.
Today's agenda is expected to include the motion on honoring the heroism and sacrifice of Mykhailo Zhiznevski, Hero of the "Heavenly Hundred."
The parliamentary committees finally agreed proposals for a "visa-free package," Parliament Speaker Volodymyr Hroisman said at the beginning of the session.
Read alsoPoroshenko urges Rada to consider, support EU-required bills"Today we will consider a package of 'visa-free' bills, the bills that provide for the reasonably effective mechanisms to combat corruption. I believe we all recognize that this is an important issue for the Ukrainian society and our citizens. We now have to consider and adopt the decision under personal responsibility of every MP," said Hroisman.
"The committees also did their job, coming to the generally agreed proposal. I hope these proposals will unify the session hall today," he said.
Read alsoUkraine's EU visa-free deal in jeopardy as reform deadline nearsThe parliamentary committee on combating corruption met earlier today recommending that the parliament adopt a law on the Agency on managing the seized property.
The UNIAN correspondent also reported that Ukrainian Prime Minister arrived in the Rada along with several ministers, after urging the MPs to support the package.
Minister of Education and Science Sergey Kvit, Justice Minister Pavlo Petrenko, Interior Minister Arsen Avakov and chief of the National Police Khatia Dekanoidze are also present in the session hall.