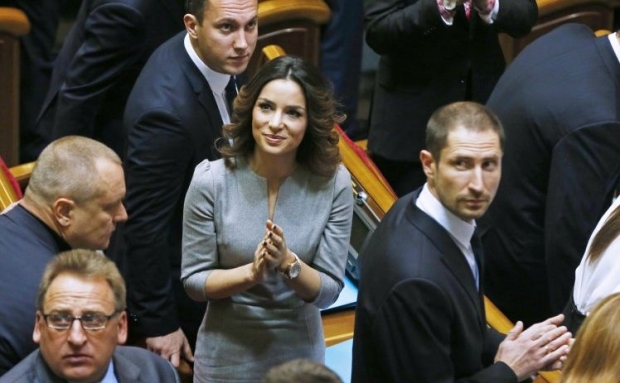 Zlata Ognevich / Photo from UNIAN
"I came to the Verkhovna Rada neither for a deputy's mandate, nor for any privileges. I came as a citizen who saw the Ukraine's new path. And now I see that, when there is no culture, it's much easier to control and manipulate the people," Ognevich said.
She said that under these circumstances, being a representative of culture, she saw no use in her staying in parliament.
"For objective reasons, today I abdicate my deputy powers," Ognevich said.
Part of the session hall applauded her decision.
Read alsoBatkivschina Party threatens to quit CoalitionUNIAN memo. Zlata Ognevich is a Ukrainian singer. She represented Ukraine in the Eurovision Song Contest several times. In the 2013 final, Ognevich placed third with her entry "Gravity," scoring 214 points.
She is also a soloist of the Ensemble of Song and Dance of the Ukrainian Armed Forces.
On October 26, 2014, Ognevich was a elected an MP (as a non-partisan candidate, she was placed fourth on the Radical Party list). According to Radical Party leader Oleh Lyashko, Ognevich was on the party list because "I understand that people perceive parliamentarians as jowly, paunchy, old, sick and stupid people. I want the young, smart and beautiful in this Parliament". While in Parliament, Ognevich has been focusing on cultural and copyright issues.