Rada passes EU-required bill on seizure of property
The Verkhovna Rada adopted the draft law, from the "visa-liberalization package," authorizing seizure of assets, which may be evidence of a crime, or if they were acquired by criminal means.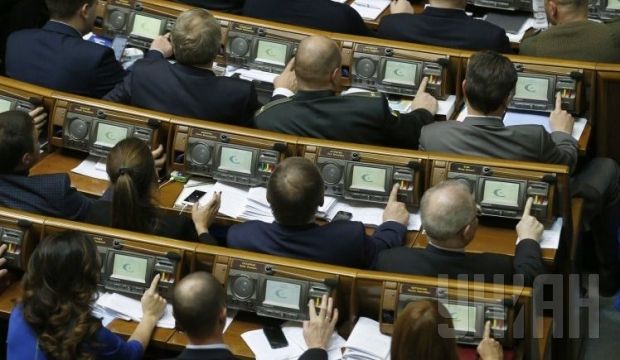 The deputies adopt one of the "visa-free" laws / Photo from UNIAN
Bill No.2540 was supported by 291 out of 371 MPs present in the session hall.
The law stipulates that, by a court decision, the arrest of property is the suspension of the expropriation, disposal and use of property in respect of which there are grounds to believe that it could be the subject or instrument of the crime, the evidence of a crime, or that it was acquired by criminal means, was the income from the crime, or was received from the proceeds of crime.
The objective of seizure of property is to prevent its concealment, damage, deterioration, destruction, alteration, and alienation.
The arrest can be applied to the property in possession, use or disposal of the suspect, the accused, the convicted, and the third parties, as well as the legal entity to which such measures can be applied by the court under criminal legislation.
Read alsoRada adopts special confiscation for corrupt officialsCourt order shall be the basis for such seizure of property.
The law specifies that no property may be seized if owned by a bona fide purchaser. It is not allowed to ban the use of premises by persons who legally reside in a residential area.
This law comes into force on the day following the day of its publication.
Prime Minister Yatsenyuk noted that after the adoption of this bill, a legal opinion from the European Union must be acquired. "If, in accordance with the legal opinion it turns out that the newly adopted bill is not accepted by the European Commission as corresponding to the European legislation, either the President of Ukraine makes appropriate proposals to the parliament, or we re-vote this bill in order to get a visa-free regime," said the prime minister.
Read alsoSBU's jurisdiction limited to crimes against national security, terrorismIn turn, Parliament Speaker Volodymyr Hroisman noted that, if the law does not contain the required provisions, it will be revised to correspond to European directives.
If you see a spelling error on our site, select it and press Ctrl+Enter