Investigative journalists reveal the wealth of Putin's daughter Katerina / Photo from kashin.guru
"After unconfirmed media speculation about Katerina's identity, a senior Russian figure told Reuters that she uses the surname Tikhonova. Andrey Akimov, deputy chairman of Russian lender Gazprombank, said he had met Katerina when she was little and more recently, and that Tikhonova was Putin's daughter," investigative journalists Stephen Grey, Andrey Kuzmin and Elizabeth Piper wrote in an article titled "Putin's daughter, a young billionaire and the president's friends," published in the Reuters Investigates section on November 10.
Reuters has also learned that earlier this year Katerina, 29, described herself as the "spouse" of Kirill Shamalov, son of Nikolai Shamalov, a longtime friend of the president. Shamalov senior is a shareholder in Bank Rossiya, which U.S. officials have described as the personal bank of the Russian elite.
As husband and wife, Kirill and Katerina would have corporate holdings worth about $2 billion, according to estimates provided to Reuters by financial analysts. That wealth stems mainly from a large publicly disclosed stake in a major gas and petrochemical company that Kirill acquired from Gennady Timchenko, another longtime friend of Putin.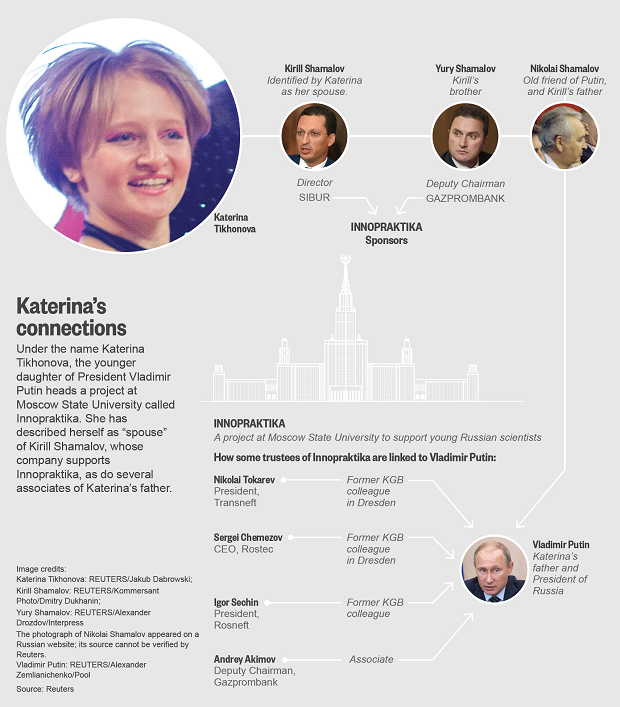 Katerina's connections / Infographics by REUTERS
Also among the young couple's holdings is a seaside villa in Biarritz, France, estimated to be worth about $3.7 million. That asset, too, was acquired by Kirill from Timchenko, a commodities trader who has known the president since at least the 1990s. The elegant house on Avenue du General Mac Croskey in Biarritz covers about 300 square metres inside and has 2,000 square metres of garden. Built in the 1950s, it is now worth about 3.5 million euros ($3.7 million), according to Pierre Fourreau, an architect who renovated the property seven years ago.
Public records show the property was previously owned by Putin's old friend Timchenko. In September 2007, Timchenko and his wife, Elena Ermakova, registered a French property company called SCI Atlantic to acquire the house. On November 15, 2012, the couple's shares in SCI Atlantic, which still owns the Biarritz house, were transferred for an undisclosed price to Kirill Shamalov.
People living near the Biarritz house say they have not seen the young couple there.
Katerina is also thriving in academia and running publicly funded projects at Moscow State University. A Reuters examination of public documents shows that the president's younger daughter has signed contracts worth several million dollars from state-owned organisations for work at the university to be carried out by organisations she directs. There is no indication she has made any personal financial gain from this work. She holds a senior position at the university, and helps direct a $1.7 billion plan to expand its campus.
Katerina and Kirill Shamalov all declined to comment for this article, Reuters wrote. Asked about the Biarritz home, a spokesman for Timchenko said he would not comment on personal matters.
Reuters asked the Kremlin whether Katerina Tikhonova was the daughter of Putin and whether she is married to Kirill Shamalov, and other questions. Dmitry Peskov, press secretary of the Russian Federation, replied: "We have no information whatsoever about the personal life, family connection, marital status, academic activities, involvement in particular projects and family tree of Ms Tikhonova, or about other individuals mentioned in your letter.
"In recent years there has been an enormous quantity of gossip on the subject of the family ties of V. Putin, and, in particular, his daughters. The proportion of accurate information in all these publications is laughably small."