Ukraine's Acting Ambassador to NATO: Russia's actions see no understanding at NATO HQ
The actions of the Russian Federation see absolutely no understanding at NATO Headquarters, Acting Head of Mission of Ukraine to NATO, Yehor Bozhok, said during an online conference on eurointegration.com.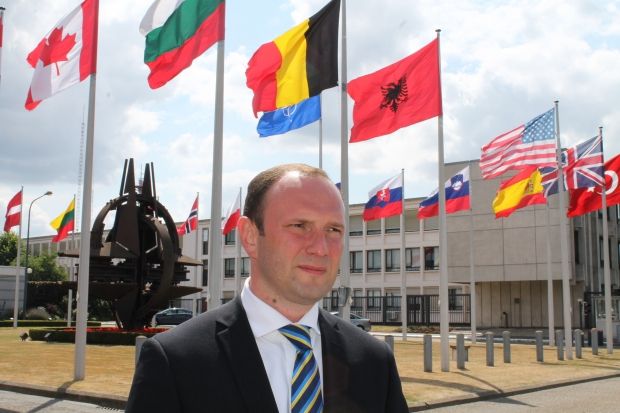 nato.mfa.gov.ua
"The general atmosphere, which I observe at NATO Headquarters, is that there is an absolute, complete misunderstanding of the actions of the Russian side, their non-recognition and rejection," said Bozhok.
At the same time, he said that the Russian diplomats avoid contacts with their Ukrainian counterparts at the Headquarters.
"There are no contacts as of today, because Russian colleagues simply avoid such contacts," he said.
The diplomat believes that his "Russian colleagues simply have nothing to say to us (because we clearly understand what happened), so it makes no sense to impose their propaganda on us, the Ukrainians, who know the truth."
Read alsoBulgarian President: Russia plans 'hybrid warfare' campaign aimed at destabilizing EuropeBozhok noted that Russian representatives, at the same time, concentrate on working with other countries, but only directly, without involving the Ukrainian side.
"They never wish to work in a trilateral format. Maybe, their intentions and tactics are such that the civilized world hears only Russian rhetoric; and that such Russian rhetoric is not immediately accompanied with appropriate comments, explanations and rebuttals by the Ukrainian side," said the Acting Ambassador to NATO.
If you see a spelling error on our site, select it and press Ctrl+Enter