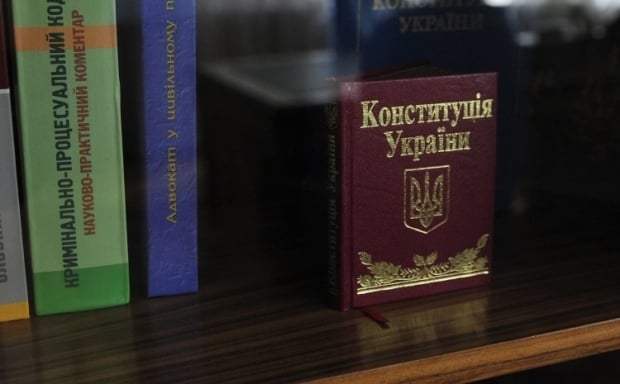 Photo from UNIAN
Commenting on the amendments, the President noted: "The Ukrainian society has been waiting for these changes for too long. That's why I urge the MPs to thoroughly examine the draft law in the shortest possible term for us to have a renewed Constitution in the context of justice and build a fair court in Ukraine that will meet high European standards".
A draft law submitted to the Parliament by the President of Ukraine "On Amendments to the Constitution of Ukraine (regarding justice)" has been posted on the website of the Verkhovna Rada.
In particular, it is proposed to amend Article 85 of the Constitution, depriving the [Ukrainian] Parliament of the right to express distrust to the Prosecutor General. The amendments envisage elimination of the procedure of appointment and dismissal of the prosecutor general by the president with the consent of the Verkhovna Rada.
Read alsoPoroshenko: Judicial reform changes to Constitution to be finalized soonDraft amendments also propose excluding in full  Chapter VII of the Constitution "The Prosecutor's Office", and  include provisions, which have been brought in line with international and European standards, defining the legal status of the prosecutor's office in Chapter VIII "Justice".
In particular, a number of functions that are not relevant (according to European standards) to the prosecutor's office have been excluded, such as: supervision over the observance of rights and freedoms of citizens; supervision over the observance of laws related to these issues by executive authorities, local self-government, their officials and officers (the so-called "general supervision"), supervision over the observance of laws when executing judicial decisions on criminal cases, and in case of other coercive measures, related to the restraint of personal freedom of citizens.
It is noted that the proposed amendments will provide "the prosecutor's office with extended procedural powers to ensure a much better performance of functions appropriate to the prosecutor's office - maintaining public prosecution in courts; procedural action regarding pre-trial investigations, dealing with other issues of the criminal proceedings, in accordance with the law, supervision of operative and other investigative and search actions of law enforcement bodies."
Read alsoUkraine sets up State Bureau of InvestigationIt is also noted that the proposed amendments regarding the functions of the prosecutor's office comply with the provisions of the Convention for the Protection of Human Rights and Fundamental Freedoms, practices of the European Court of Human Rights in the field of criminal proceedings, as well as European standards concerning the functioning of the public prosecution (service) in a democratic society governed by the rule of law.