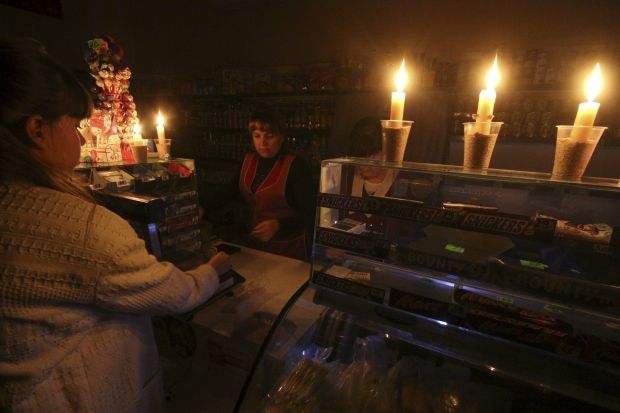 REUTERS
"Participants in the blockade agree with the position that the power supply could be restored via the Kakhovka-Titan line, taking into consideration our country's energy security and other spheres," Chubarov said.
"This is the only [transmission] line with the power capacity limited to 220-250 megawatts. The others' capacity could be increased to 550 megawatts," he said.
"There are four transmission lines supplying the power to Crimea: Kakhovka-Titan, Kakhovka-Dzhankoi, Kakhovka-Ostrovska, and Melitopol-Dzhankoi. All of them are idle now. Only the Kakhovka-Titan line has been repaired with our consent," he said.
He also reported a meeting with Ukrainian President Petro Poroshenko had been held on the power supply to Crimea.
As UNIAN reported, two out of the four transmission lines supplying the power from mainland Ukraine to Russian-occupied Crimea and some districts of Ukraine's Kherson and Mykolaiv regions were damaged during the explosions of their pylons in Kherson region in the early hours of November 20. The pylons of the remaining two lines were damaged in new blasts on the following day.
The site of the explosions is close to the venue where Crimean Tatar leaders and public activists have been staging a blockade of Russian-occupied Crimea. They call on the Ukrainian authorities not only to cease food shipments to the peninsula, but also to suspend the electricity supply there. The activists deny any involvement in the incidents.
Having reached an agreement with the activists, state-run energy company Ukrenergo was able to send its repair teams to restore the 220 kV Kakhovka-Titan transmission line.
Ukrenergo announced on November 29 that the line had been repaired, yet the power supply to Crimea has not been resumed. The company said it would begin supplying electricity to Crimea as soon as a final decision had been made.