Right Sector prevents power supplies resumption to occupied Crimea
Representatives of the Right Sector Ukrainian national liberation movement prevented the resumption of power supplies to the occupied Crimea via Kakhovska-Titan power line in the early hours of Monday, according to a statement issued by the organization.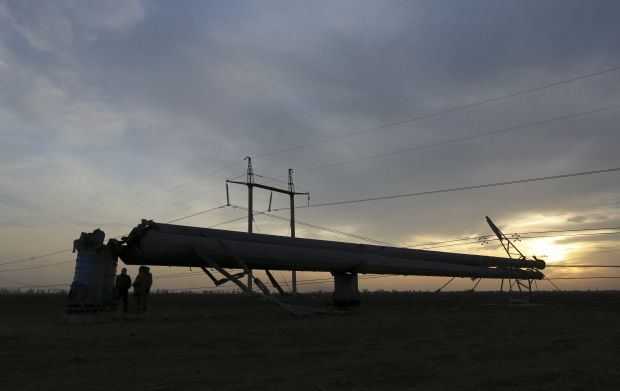 REUTERS
"Tonight there was an attempt to connect one of the power grids, which comes from a plant of [Ukrainian] tycoon Firtash - Titan. The repair crew which came together with officials from the Interior Ministry and the Security Service of Ukraine tried to launch the power line according to agreements reached between leaders of the Crimea blockade and [Ukrainian President] Poroshenko," according to the statement.
As reported, the members of the Right Sector, as well some other activists of the blockade were surprised that the representatives of the Majlis had agreed to resume power supplies to the occupied Crimea.
"We do not understand the position of the authorities and the organizers of the blockade regarding the economic cooperation and trade with the enemy. Such actions are a betrayal of the state interests. In time of war it is a serious crime," the statement reads.
Read alsoPoroshenko: Emergency power supplies to Crimea through one transmission line to be restored soonThe Right Sector emphasized that in case power supplies [to Crimea] are resumed, the organization would terminate its participation in Crimea's blockade public rally because it "sees no point in such blockade."
Read alsoCrimea blockade activists agree to partial power supply to Crimea"We reserve the right to exercise control in a different format and prevent the delivery of goods and resources to the occupied territory. We remind everyone who wants to negotiate with the enemy: there is an ongoing war, and any cooperation with the occupying authorities is treason. This crime has no statutory limitations," the statement reads.
If you see a spelling error on our site, select it and press Ctrl+Enter