Kakhovka-Tytan power line to Crimea reconnected to grid
At about 01:15 on December 8, with the consent of the protesters of energy and food blockade of Crimea, a 220 kV Kakhovka-Tytan power line, which supplies power to two districts of Kherson region - Kalanchak and Chaplynka, was connected to the network, Acting Chairman of Chaplynka Regional State Administration Vitaliy Spyzhov said on Tuesday.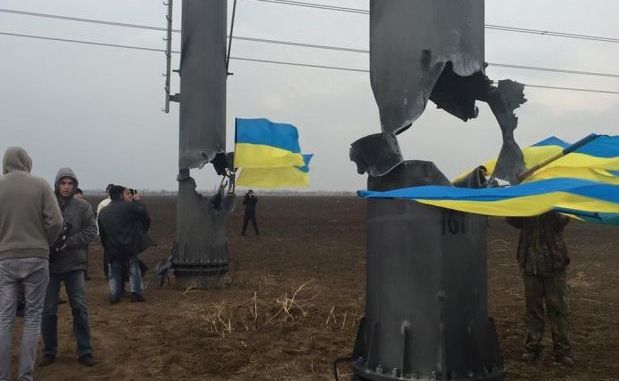 facebook.com/kivailya
Since the damage of a 220 kV Kakhovka-Tytan power line, two districts were supplied by the backup scheme, which has been failing repeatedly, especially in the last week, the press service of the Kherson Regional State Administration reports.
The reconnection of the line is the first step toward the return of the normal functioning of the Kakhovka substation, on which the power supply to a large part of Kherson and Mykolaiv regions depends.
Read alsoCrimea energy blockade activists ease grip"The 220 kV Kakhovka-Tytan power line is reconnected to the power grid. The activists remain at the scene protecting the other two damaged power lines," Spyzhov said.
Read alsoRight Sector quits Crimea blockadeThe information on the reconnection of the 220 kV Kakhovka-Tytan power line to the grid has been confirmed by Ihor Bosko, chief of Kherson regional backbone grids.
If you see a spelling error on our site, select it and press Ctrl+Enter