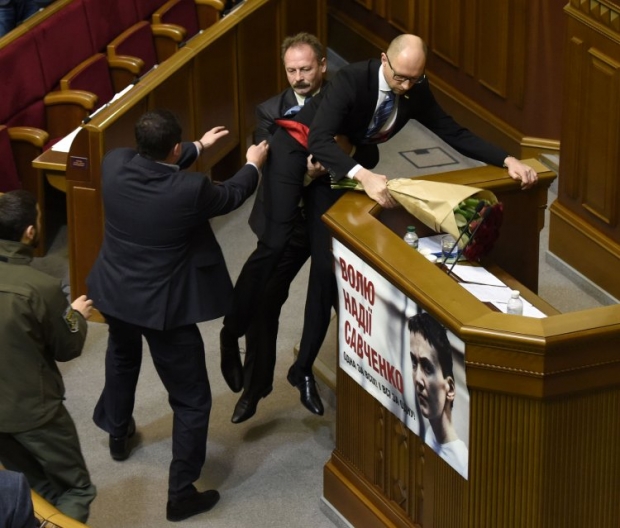 Photo from UNIAN
He noted that the decision was adopted by "an overwhelming majority."
At this, an UNIAN correspondent reported MP Barna announced that he had left the faction at a meeting of the Verkhovna Rada Procedure Committee that was assessing Barna's responsibility for the incident with Prime Minister Arseniy Yatsenyuk.
"It may not be the European-style behavior, but other methods don't work. Because, if Yatsenyuk does not leave, I am afraid people will take him out," Barna said.
"The prime minister, with the rating of his political force falling down to zero over six months, should resign automatically. The prime minister, who has not fulfilled the agreements, should resign," Barna said.
He also complained that MPs did not put their signatures he was collecting, under a resolution calling for the Ukrainian government's resignation, according to Ukrainian online newspaper Ukrainska Pravda.
Read alsoBrawl erupts in Rada during PM addressAs UNIAN reported earlier, one of MPs provoked a fight in a session hall between the deputies of the Coalition during Prime Minister Arseniy Yatsenyuk's speech today. The deputies got into a fistfight after an MP from the Bloc of Petro Poroshenko, Oleh Barna, who is collecting signatures for the Rada's non-confidence in the Cabinet, came up to the rostrum during Arseniy Yatsenyuk's address, presented him a bouquet of red roses, grabbed him and dragged him down.
BPP faction leader Yuriy Lutsenko apologized for "disgraceful" behavior of Oleh Barna.