Russia's Churkin questions legitimacy of Ukraine authorities, accuses of neonazism
Russia's Permanent Representative to the UN Vitaly Churkin questioned the legitimacy of the Ukrainian authorities due to it allegedly being followers of the ideology of neonazism and aggressive nationalism, while speaking at the meeting of the UN Security Council on Dec 11.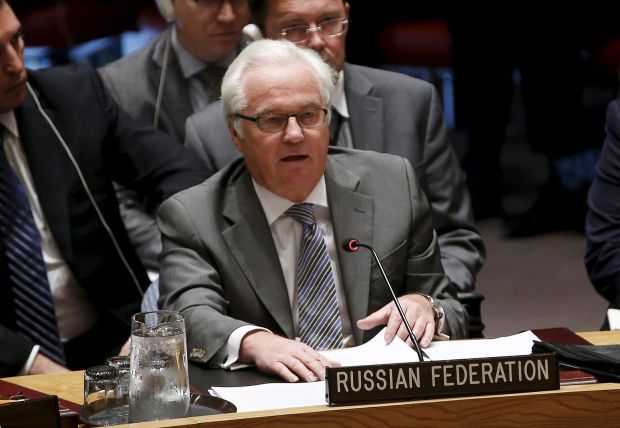 REUTERS
"One of the factors that is behind what the Kyiv authorities are doing is the ideology of extremism that is widespread in Ukrainian society, as is neo-Nazism and aggressive nationalism," said Churkin.
Russia's representative said that "until this ideology is seen in Ukraine as somebody implementing their right to free speech, we can't have legitimate authorities in Kyiv."
Besides, Churkin said Russia was "shocked that the new Ukrainian military cargo plane is to be called 'Bandera'," [the option to name the new An-178 aircraft after Ukraine's historic figure, leader of nationalist and independence movement Stepan Bandera, who is widely associated in Russia with collaboration with the Nazis, now tops the popular voting set up by Antonov design bureau] and wondered, whether a "swastika" will be drawn on it.
Read alsoKlimkin tells UNSC how to control militants' arms withdrawal in DonbasThe diplomat also criticized the stance of the U.S. on the Ukrainian issue in the context of implementation of the Minsk agreements, saying that Washington plays a destructive role, which is falling beyond the context of the Normandy Four" by constantly backing its Kyiv partners. Churkin named this as one of the main reasons for a hampered process of political settlement in Donbas.
UN Deputy Secretary General Jan Eliasson stressed on the need to fulfill the Minsk agreements in full. "The conflict zone remains highly militarized, there is an ever present danger of serious escalation," he said, appealing to all sides to provide "unrestricted and unconditional access for critical humanitarian assistance and to guarantee freedom of movement for civilians throughout the country."
If you see a spelling error on our site, select it and press Ctrl+Enter