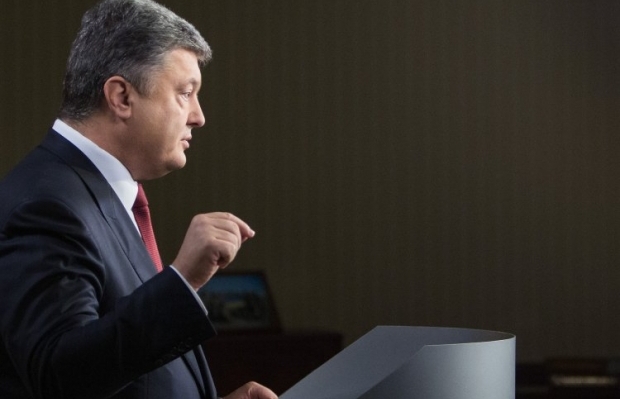 Photo from UNIAN
"As President, guarantor of the Constitution, rights and freedoms of citizens, I cannot keep silent about the infamous incident, which occurred on Monday at the National Council of Reforms," said Poroshenko.
"The discussion at this platform often becomes tough and heated. Different points of view are expressed there, ideas are produced, compromises are found and reforms are born," the president said. "But coarse language and insults are inadmissible at the National Council of Reforms. Especially with xenophobic overtones that affect national dignity, call into question Ukrainian patriotism and offer somebody to 'get out of Ukraine'."
Read alsoPoroshenko demands Russia's repressions against Crimean Tatars stopPoroshenko stressed that it was he, who invited the international team of reformers to Ukraine. The president went on to say that these people have already become "a truly Ukrainian team not only in terms of passports, but also in terms of spirit." "I do not regret about this decision," Petro Poroshenko said.
"On the other hand, struggle against corruption is not a show business. I would like people's deputies and public servants to avoid participation in such 'shows'," said the Ukrainian president. "Not those who speak better, but those who provide evidence base to the National Anti-Corruption Bureau will be more convincing."
Petro Poroshenko concluded: "It is high time to switch from the anti-corruption show to the anti-corruption cases."
As UNIAN reported earlier, the meeting of the National Council of Reforms ended in a spat between Interior Minister Arsen Avakov and Odesa Governor Mikheil Saakashvili [ex-President of Georgia].
Avakov has reportedly splashed a glass of water at Saakashvili after the heated verbal confrontation.
On his page on the social networking site Facebook Avakov wrote: "At the National Council of Reforms, Mr. Saakashvili lost control following my question to him on why he had talked with the Russian oligarch from UralChem on the issue of the OPP [Odesa Portside Chemical Plant]... and how it was connected with the process of privatization of the OPP..."
"Odessa Governor threw fits, screaming at me: "Nobody has the right to talk to Mikheil Saakashvili like that ... you're a corrupt minister .. and I am an honest man ...." He proceeded with direct insults, according to Avakov. At the same time he added: "I refrained from hitting him, I just splashed water at his face," said Avakov.
Meanwhile, Saakashvili wrote on Facebook that he required the press service of the Ukrainian President to make public the full video of the incident, which he called the "unworthy and provocative behavior of the Prime Minister and the Minister of Internal Affairs"during the National Council of Reforms.