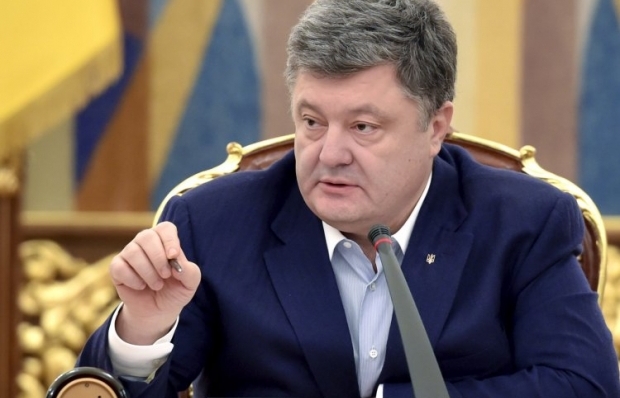 Photo from UNIAN
In the course of the meeting with presidents of the constitutional court of Georgia – Giorgi Papuashvili, Lithuania – Dainius Zalimas, Latvia – Aldis Lavins and Moldova – Alexandru Tanase who arrived in Ukraine to participate in the International Scientific-Practical Conference on the Introduction of the Constitutional Claim in Ukraine, the Head of State reminded that Ukraine was now introducing significant constitutional amendments on decentralization and judiciary, the report says.
"The key position is to make the judicial power truly independent," Poroshenko said.
Speaking of the decentralization reform, the Head of State said: "It is a radical change of the system of formation of state and local government based exclusively on the European model."
He stressed that due to the decentralization, regions, local authorities and communities would receive more opportunities for ensuring their needs and implementing new projects.
The President emphasized that Ukraine was interested in developing lasting strategic cooperation, particularly in the sphere of the constitutional law, with countries whose representatives are present at the meeting. He praised the assistance provided for Ukraine.
"Your experience and support are essential for us. Solid position of political authorities of all Baltic States is a factor that ensures unity of the EU and solidarity with Ukraine," Poroshenko said.
Participants of the meeting, in their turn, assured of their readiness to assist, provide expert consultations and share experience in the spheres of successful implementation of reforms in their countries. They also mentioned that they closely monitored he situation in Donbas and Crimea.
"Constitutional courts do not stay aside. This year, we initiated the so-called Batumi process to condemn the actions of the Constitutional Court of the Russian Federation, which could have stopped the annexation of Crimea, but hadn't done that. We decided not to remain silent," President of the Constitutional Court of Lithuania Dainius Zalimas said.
"The act of aggression and gross violation of the international law shouldn't be left without attention, at least of the judicial community," President of the Constitutional Court of Moldova Alexandru Tanase added. According to him, lawyers from other countries also support the Memorandum of Condemnation of Actions of the Russian Constitutional Court.