Putin: Russia can't abandon Russians in Donbas to "nationalists to eat them up"
Russia cannot "abandon the Russian-speaking population of Donbas to nationalists to eat them up," Russian President Vladimir Putin said in an interview with one of the Russian TV channels.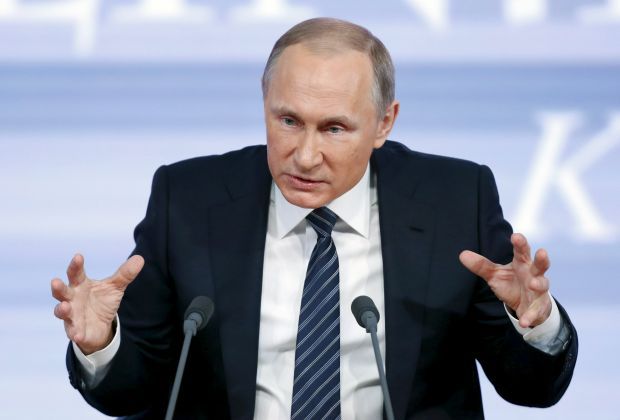 REUTERS
According to Putin, the West continues to believe that "it is necessary to put some pressure on Russia so that it gives concessions, somehow and on some issue."
"It is not our job to go on an offensive anywhere, or insist on anything, we only believe that we cannot leave at the mercy of nationalists those people who live in the south-east of Ukraine," Putin said, adding that it is about all the Russian-speaking population of Donbas, "which focuses on Russia."
Read alsoPutin eventually admits Russians in Donbas "solving" military issuesUNIAN memo. Russia annexed the Ukrainian territory of Crimea in March 2014 after its troops invaded the peninsula, and then began to destabilize the situation in Donbas. Later, the self-proclaimed "Donetsk and Luhansk People's Republics" (DPR and LPR) were created, with the direct participation of Russian special forces and the support of Russian army in Donbas, according to Ukraine officials.
A growing body of evidence shows Russia also supplies weapons to the militants of the "DPR" and "LPR," also sending mercenaries and its regular troops to fight in Donbas.
Read alsoEU to announce extension of sanctions against Russia on Dec 21: PoroshenkoThe European Union, the United States, Canada, Japan, Australia, and several other countries imposed sanctions against Russia because of its annexation of the Ukrainian territory of Crimea and destabilization of eastern Ukraine.
Western countries say that the Russian Federation should implement the terms of the Minsk agreements of February 12, 2015, the main of which are the ceasefire, the withdrawal of troops from the territory of Donetsk and Luhansk regions, the release of prisoners, the return of Ukrainian control of the Ukrainian-Russian border in Donbas.
If you see a spelling error on our site, select it and press Ctrl+Enter