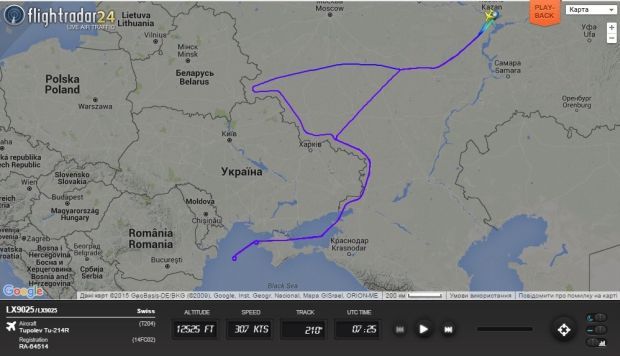 flightradar24.com
The flight of the Russian reconnaissance aircraft Tu-214R is recorded by Flightradar24 online open service.
In particular, the aircraft moved south along the Russian-Ukrainian border, later violating the airspace of Ukraine, flying over the Russian-occupied territory of Crimea.
"Cool flight. The work of a Tu-214R reconnaissance aircraft on the Russian-Ukrainian border and beyond it. The plane flew, as I understand, in the Ukrainian economic zone of the Black Sea," Lazebnyk said, stressing that it was "a military plane."
Read alsoNATO jets again intercept Russian plane over Baltic near Latvia
As UNIAN reported earlier, patrol aircraft from NATO's Baltic Air Policing mission on December 19 intercepted a military aircraft of the Russian Federation over the Baltic Sea.