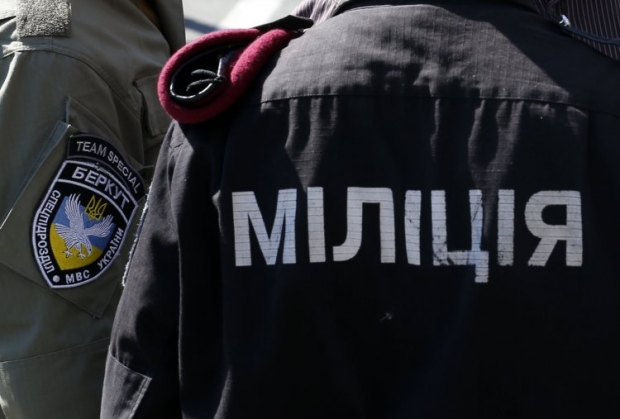 Police refused for several hours to let in the courtroom the doctors who came to take Korban to hospital / Photo from UNIAN
Policemen are only standing, observing the situation, without interfering into the brawl, the correspondent reported.
Among those present is parliament's human rights commissioner Valeria Lutkovska.
Korban's supporters have managed to repel the attack using a fire extinguisher against the Titushky, or hired thugs named after Vadym Titushko, who attacked journalists in May 2013.
Police refused for several hours to let in the courtroom the doctors who came to take Korban, who reportedly lost consciousness during the trial, to hospital.
After the court decided to close the hearing, nobody from the courtroom was let in or out of the room.
A group of about 30 Titushky has already left the courtroom. UKROP party representatives claim that after the attack, police have detained two party activists – Valentyn Simansky and Vadym Sarakhman. The detainees have been taken to an undisclosed location.
A party representative said, citing the words of masked police officers, that "'they [the detained] have been taken away,' and now they're threatening me and all others, saying that they will take all of us out of here." "It's lawlessness," he added.
Korban was delivered from Kyiv's Amosov Cardiovascular Surgery Institute to Kyiv's Dniprovsky district court, which on Sunday, December 27, 2015, restarted the consideration of a claim filed by prosecutors for changing the defendant's pre-trial restriction from home arrest to detention on remand.
Late on December 25, Korban underwent a double coronary stenting procedure and had to stay in hospital under the supervision of doctors with his heart rhythm and blood pressure being monitored.
As UNIAN reported earlier, Korban, who is charged with creating a criminal group, kidnapping and misappropriation of public funds, was placed under house arrest in keeping with a ruling by Kyiv's Pechersk district court for two months until December 31, 2015.
Former Ukrainian SBU Security Service Chief Valentyn Nalyvaichenko says he considers that an investigation into the Korban case is politically motivated. In his response to Korban's public address for disclosing details about accusations against him, Nalyvaichenko said that he knew nothing about criminal proceedings against the politician in connection with kidnapping, misuse of funds or intrusion into the election process in Ukraine.
Korban has recently called on Members of Parliament to sign a new petition initiated by Radical Party leader Oleh Liashko for the dismissal of Prosecutor General Viktor Shokin if they "don't want to get under house arrest as was the case with him."