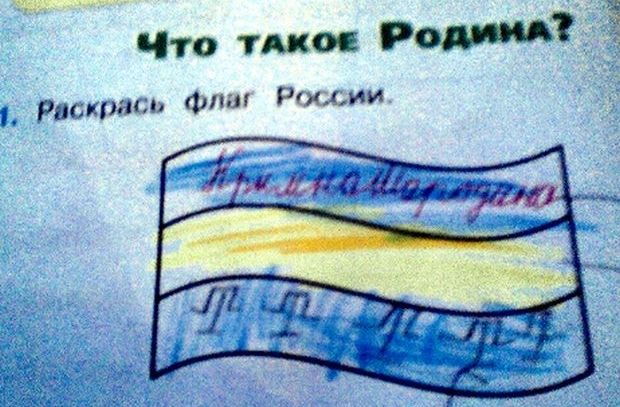 Parents of a student called up for the drawing / 15minut.org
Parents of a student called up for the drawing / 15minut.org
The school student has also added the national Crimean Tatar emblem ("tamga") and wrote "Crimea is our Homeland" on a flag drawn on a test sheet.
Also, according to the publication, five students from among the Crimean Tatars in one of the universities of Crimea refused to get up for the national anthem of Russia, which triggered internal investigation. A student at a primary school in Bakhchisarai read out loud a phrase "Our homeland is Crimea" instead of the teacher's instructions to read "Our homeland is Russia." The parents were reported to have praised the child's move after they had been summoned to school administration.
On December 28 in the village of Dolinka Krasnoperekopsky district of the Crimea about 25 Cossacks raided homes of the Crimean Tatars. As the chairman of the regional Krasnoperekopsk Mejlis Saniye Ametova, the reason for the raid was that the Ukrainian national symbols were drawn at the bus stops across the area in several villages of the region, while the crosswalks were painted in yellow and blue.
Read alsoRussian FSB tortures Crimean Tatar, trying to recruit him – DzhemilevThe situation with the violation of human rights of the Crimean Tatars, who mostly support the integrity of Ukraine has significantly worsened after the Russian occupation. The activists report of the murders, abductions and arrests, searches of homes and mosques, persecution of the leaders of the Majlis, the ban on peaceful assembly and the pressure on the national media.
According to the leader of the Crimean Tatar people, Ukrainian MP Mustafa Dzhemilev, nearly 10,000 Crimean Tatars of 280,000 residing in the territory of the peninsula were forced out of Crimea because of the occupation.