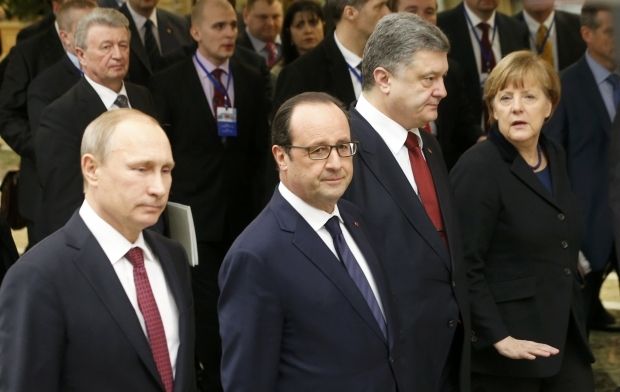 REUTERS
"With a view to maintain order and security of the electoral process, the Ukrainian President offered to deploy the EU's special peacekeeping mission in the framework of the Common Security and Defense Policy of the European Union, the press service reported with reference to Poroshenko who proposed this during a telephone conversation with German Chancellor Angela Merkel, French President Francois Hollande and Russian President Vladimir Putin on Wednesday, December 30.
The parties to the "Normandy Four" talks also called for the intensification of the Trilateral Contact Group's work in early 2016 over "the modalities of holding local elections" in certain areas of Donetsk and Luhansk regions. The Office for Democratic Institutions and Human Rights (ODIHR) should be involved in these activities.
In this context, Poroshenko emphasized the need for abolishing fake elections scheduled by Russian-backed militants in eastern Ukraine.
"Once again, he noted that the elections in Donbas should be held with participation of Ukrainian political parties, media, the Central Election Commission, international observers and in full compliance with the OSCE/ODIHR standards," the presidential press service said.