Poroshenko: Ukrainians owe opportunity to celebrate New Year to army
Ukrainian President Petro Poroshenko says that Ukraine and Ukrainians owe the opportunity to celebrate this New Year and Christmas to the Ukrainian army, according to the presidential administration.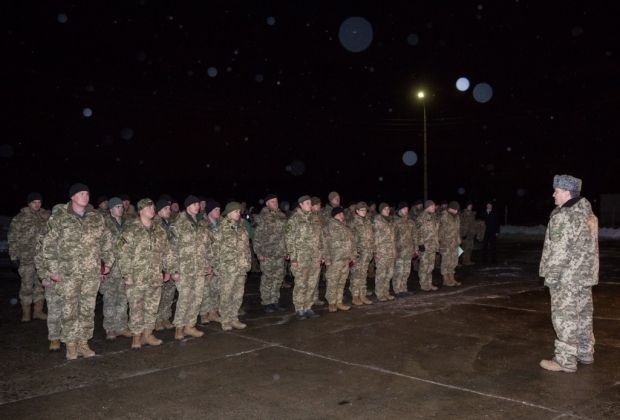 Poroshenko says Ukraine has got a strong military capable of repelling the aggressor / Photo from president.gov.ua
"This is thanks to you who are in a cold fighting hole now instead of sitting at the table in the warmth of the house. To you who are holding their rifle not cheers glass at the ready," Poroshenko said at a meeting with participants in the Anti-Terrorist Operation during a recent visit to the city of Severodonetsk in Luhansk region on Wednesday.
Poroshenko shared the season's greetings with the servicemen and presented them state awards for courage.
The president noted that Ukraine is proud of its army and trusts it, the presidential administration reported. According to him, stabilization in the east of Ukraine is the main achievement in the sphere of security and defense in 2015.
"Such years as 2015 are called 'one for three.' We have endured hard challenges courageously defending Donetsk airport, Debaltseve, Shyrokyne and many other towns and villages in the east of our country. Together we have withstood," the president said.
"Standing here with you, on the frontline of our fight for independence and freedom, I reiterate that the guarantor of Ukrainian statehood is the brand new Armed Forces of Ukraine that were created and weathered in the flames of war of 2014-2015," Poroshenko said.
"The Armed Forces have regained their fighting capacity, obtained combat experience, increased operative capabilities and became better equipped. Now we've got a strong military capable of repelling the aggressor in case of escalation in the east of Ukraine," he added.
If you see a spelling error on our site, select it and press Ctrl+Enter