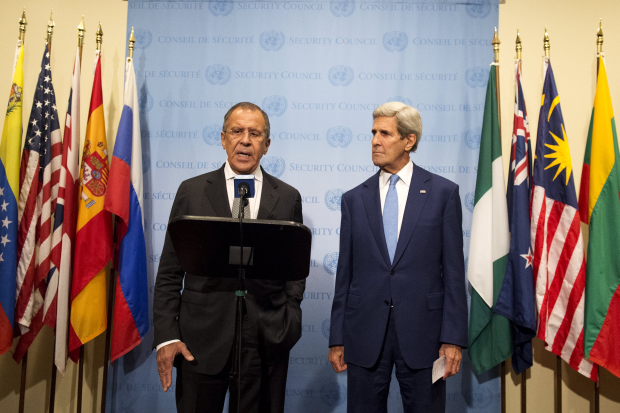 REUTERS
"On Ukraine, they discussed how to accelerate the full implementation of Minsk commitments, including the urgent need to restore the ceasefire and allow full OSCE access," Spokesperson for the U.S. Department of State John Kirby said in a statement on Wednesday.
Lavrov said Wednesday after a meeting with Kerry that the U.S. Secretary of State and his assistant Victoria Nuland on Wednesday confirmed that the U.S. work regarding Ukraine would be aimed at support for the Contact Group and the Normandy format, according to Russian news agency TASS.
Lavrov said "the positive assessment by our American partners of the Normandy Four's activity was confirmed."
Among other issues discussed by Kerry and Lavrov were plans for the UN-led negotiations between the Syrian parties on January 25 and the importance of maintaining progress toward a diplomatic solution to the crisis in Syria.
Secretary Kerry pressed for Russia to use its influence with the Assad regime to ensure immediate, unimpeded and sustained humanitarian access to all Syrians in need, especially those in besieged areas such as Madaya, in compliance with UNSCR 2254 and as agreed by the ISSG in New York in December.
Finally, they discussed the importance of a strong and united international response to North Korea's nuclear test in defiance of Security Council resolutions.