Poroshenko tells what can lead to full-scale conflict with Russia
President Poroshenko said that the torpedoing of the Minsk deal and blocking the constitutional process will lead to a full-scale conflict with Russia, an UNIAN correspondent reported from a Kyiv conference of the representatives of local self-government, members of the Association of the Ukrainian Cities.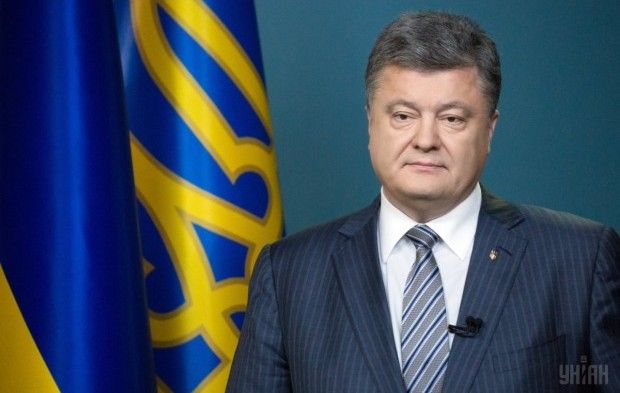 Photo from UNIAN
"The political forces who want at all costs to torpedo the Minsk agreements, block the peace process, [and] block the constitutional process, must be aware of the consequences of their actions," said the Ukrainian president.
"They will cause the resumption of a hot phase of the conflict, including full-blown, rather than local, as it has been so far, conflict with Russia," Poroshenko said.
In addition, Poroshenko stressed that the sole basis of adopting amendments to the Constitution in terms of decentralization is Russia's implementation of all provisions of the Minsk agreements.
"I clearly underlined that my job is returning the Ukrainian sovereignty over Donbas as early as in 2016, and I believe in it, firmly. Yesterday in Davos, the speakers also reiterated the position that in 2016, Russia must implement all provisions of the Minsk agreements, and this is the only basis for a partial easing of sanctions," said Poroshenko.
Read alsoPoroshenko: No black cat of federalization in decentralization amendments to ConstitutionAs the Head of State explained, it means that the "second reading of the constitutional amendments on decentralization should take place against the backdrop of the obvious and decisive progress in the implementation of those provisions  of the Minsk deal, which are scheduled to be fulfilled before the year end."
Read alsoConstitutional amendments exclude adoption of laws on "special status" of any regions - PoroshenkoPoroshenko stressed once again that it's about a cease-fire and the establishment of "silence" regime, a release of the hostages, admission of the OSCE to the border, withdrawal of Russia's regular troops, mercenaries and military equipment from Ukraine, and holding the elections in accordance with the Ukrainian legislation and OSCE standards.
If you see a spelling error on our site, select it and press Ctrl+Enter