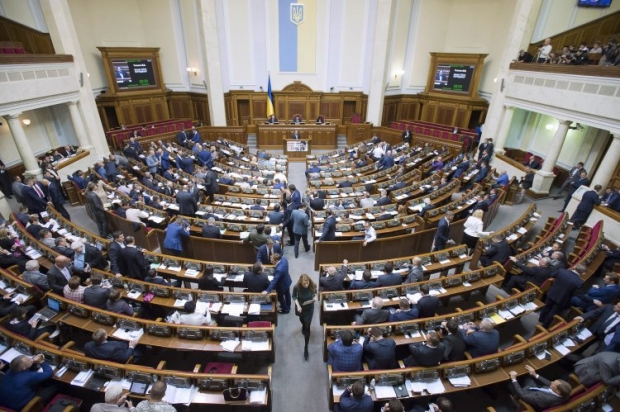 Photo from UNIAN
A decision to include bill No. 3755 in the parliament's agenda has scored only 206 out of the required 226 votes.
More than 30 deputies from the Bloc of Petro Poroshenko did not vote for the bill as is seen from the voting results. Another 29 MPs of the faction were absent, according to the report. Nine MPs from the People's Front Party did not vote either, while another ten were absent.
However, it is reported that other draft laws, namely those on the state flag of Ukraine and zero declaration of income, have been included in the Rada's session agenda.
Among other issues included in the agenda was a draft law on measures to ensure payments in the energy sector in relation to state-owned National Nuclear Energy Generating Company Energoatom.
As UNIAN reported earlier, on January 4, it became known that a law on the state budget for 2016 had appeared to include a last-minute provision, which rescheduled for another 12 months the introduction of a new system of financial control required for visa-free travels to the EU.
Justice Minister Pavlo Petrenko wrote on his Facebook page that the government would insist on an investigation into how the mentioned provision had been included in the final wording of the budget document.
On January 5, Petro Poroshenko Bloc's MP Vadym Denysenko registered a draft law at the Verkhovna Rada that will amend the law on prevention of corruption (regarding the functioning of the electronic system for submission and disclosure of income by government officials) (No. 3755). The bill proposes the abolition of the provision postponing the launch of the electronic income declarations for officials.