Dzhemilev, Turkish FM discuss Crimea de-occupation
Ukrainian President's Envoy for the Crimean Tatar people Mustafa Dzhemilev met on the sidelines of a PACE summit in Strasbourg with Turkish Foreign Minister Mevlut Cavusoglu on Wednesday, discussing the proposal to create a special international format of cooperation on the issue of de-occupation of Crimea, according to RFE/RL.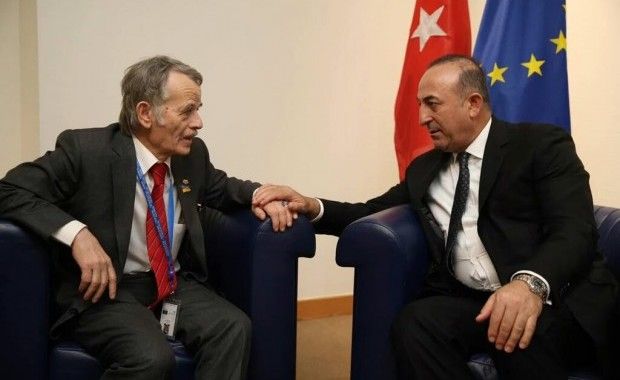 Dzhemilev meets Cavusoglu / facebook.com/mevlutcavusoglu07
"From our side, it is proposed to establish an international group, which will include the Budapest Memorandum of 1994 signatory states, as well as Turkey, as one of the most influential powers of the Black Sea region. This idea has been discussed with the President of Ukraine and Ukrainian Foreign Minister, and they supported it," reads the report.
Mevlut Cavusoglu has supported the initiative. It is noted that the details will be discussed in February, during the visit of the Turkish Foreign Minister to Kyiv.
Read alsoLawyer elaborates on charges against Dzhemilev in occupied CrimeaMustafa Dzhemilev is visiting France as part of the Ukrainian delegation at the winter session the Parliamentary Assembly of the Council of Europe. A number of events and roundtables will be dedicated to the issues of occupied Crimea and the Russian aggression against Ukraine.
Read alsoPoroshenko announces suits against Russia over CrimeaEarlier, President Poroshenko said that the Cabinet had drafted a package of claims in international courts against the Russian annexation of Crimea. The claims will be lodged with various international courts, ranging from the Maritime Arbitration and ending with the International Criminal Court in The Hague. The president explained that the claims relate to issues ranging from the protection of property and ending with the personal responsibility of certain individuals.
If you see a spelling error on our site, select it and press Ctrl+Enter